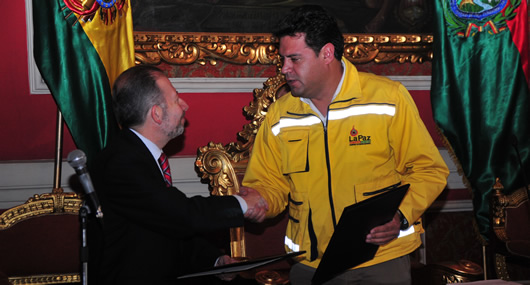 CAF Signs Accord to Finance La Paz Urban Transport Upgrades
October 07, 2013
The agreement seeks to spearhead projects designed to improve and innovate transportation and urban mobility networks in the city of La Paz, Bolivia.
(La Paz, October 7, 2013)CAF-development of bank of Latin America-has signed an agreement with the Autonomous Municipal Government of La Paz to improve public transportation and urban mobility networks under the auspices of the lending agency'sUrban Transport Program for Bolivian Cities.
La Paz Mayor Luis Revilla and Emilio Uquillas, CAF's representative director in Bolivia, stressed the accord will incorporate CAF's best practices in the sector employed across the region in the city of La Paz.
"CAF will work on specific initiatives in the transportation sector, particularly in the field of sustainable urban transportation, by conducting diagnosis and assessment projects, research and by facilitating an exchange of information and expertise from across the region on the understanding that efficient transport systems directly contribute to the well-being of a population and the productivity of industry. That's the case in cities with heavy traffic volumes that affect competitiveness," Uquillas said.
The agreement will provide the city with research and international best practices in public transportation services connecting the city with its outskirts, especially services operated by the Municipal Transportation Service (SETRAM). The agreement will involve diagnostics activities, planning stages and putting game plans into action to improve urban transport networks.
The accord will assign priority status to various projects, especially those that bolster operations at SETRAM, the project's operator. The deal will also strengthen technical capacities of SETRAM staff to optimize decision-making processes during the execution stages of mass-transportation projects.
CAF will provide timely assistance in the areas of operations, control, maintenance, revenue collection and transportation planning to ensure the most efficient and seamless completion of the project. Furthermore, both institutions will organize training workshops on strategic planning to ensure smooth upgrades on integrated transportation and urban mobility systems.