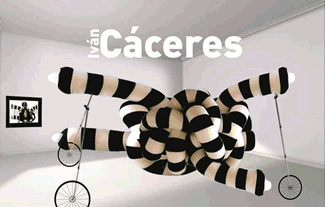 CAF'S ARTESPACIO in the VIII ART BIENNIAL SIART 2013
Works by artist Ivan Caceres, from La Paz, will be exhibited for 30 days in CAF's art gallery in La Paz.
This year, the SIART abandoned the modality of a contest, to allow for a space to reflect under the theme "Unstable Territories".
(La Paz, October 16, 2013). With a video sculpture by distinguished contemporary artist Ivan Caceres, Artespacio CAF, the art gallery of the Development Bank of Latin America in La Paz, joins the VIII Art Biennial, SIART-Bolivia 2013.
Since October 17, Caceres presents a proposal that "shows how human beings explore their memories, dreams, fantasies, and desires, to give up their individualism and connect to the environment of their daily lives".
El Basto Mundo del No-yo (The Rough World of the No-I) is the name of the exhibition which is divided into two parts: the first, a video showing the manipulation of a knot, understood as the internal concepts of individuals; the second, the exhibition of the sculpture of a giant knot on wheels, made with recycled material, in which the artist reflects the materialization of intimate feelings.
"The work explores the internal space of a human being. It started as a large creative process which allowed me to see how individualism prevents people from connecting with their environment. It is a call to give up the I", explained the artist.
According to Sandra De Berduccy, curator of the Biennial, Ivan Caceres' work belongs to the new baroque, with an architectonic, sculptural, musical, and literary style. She explained that "his work is like a jumbled city, and on this occasion the dialogue between the video images and a sculpture in which there is much architecture and management of space, stands out".
About the artist
Ivan Caceres was born in La Paz, Bolivia, in 1976. He is an architect, artist, and composer. Since 1998, he has participated in collective and individual exhibits in Germany, Bolivia, Brazil, Ecuador, Spain, France, Italy and Peru. He participated in different national and international Biennials where he received important awards.
La exposición se inaugura este jueves 17 de octubre a las 11:00 en Artespacio CAF, ubicada en la avenida Arce Nº 2915 (San Jorge) y permanecerá abierta al público por 30 días. El ingreso es gratuito.