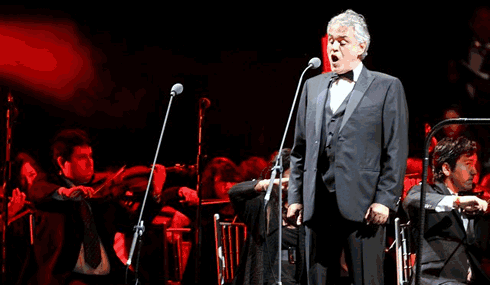 Famed Tenor Andrea Bocelli Shares Stage with Youth Symphony Orchestra at Lima Concert
October 04, 2013
An orchestra composed of 70 Peruvian children and young adults also performed with Cuarteto Libertadores de Venezuela quartet, who hosted various training workshops across Peru as part of CAF's "Music For Life" social improvement program
(Lima, 00 de octubre de 2013).-Italian tenor Andrea Bocelli, one of the world's most renowned opera singers, delighted more than 10,000 people at Lima's National Stadium recently by performing alongside the Youth Symphony Orchestra composed of 70 children and young adults.
The Youth Symphony Orchestra enchanted the audience just before the famed Italian tenor Bocelli took the stage to perform songs such as "La mia latizia infondere vorrei," "Contigo en la distancia" and "New York, New York" from his new album 'Passion'.
Also on this very special occasion, the Youth Symphony Orchestra performed with the Cuarteto Libertadores de Venezuela quartet composed of Ollantay Velásquez (violin), Eddie Cordero (violin), Otto Rodríguez (viola) and José David Marquez (cello), all of whom are instructors at the "Music for Life" social improvement program spearheaded by CAF-development bank of Latin America-which works to bring about greater social inclusion for at-risk youth across the region through the hands-on teaching of music.
The Cuarteto Libertadores de Venezuela quartet paid Peru a visit to give workshops to children and young adults from Lima and Huaraz neighborhoods as part of a "Music for Life" initiative in coordination with the Symphony for Peru founded by the Peruvian tenor Juan Diego Flórez.
The quartet also accompanied the Sinfónica Sinfonía Orchestra for Peru at the Gala Verdi performance at the Municipal Theater in Lima and at the Ricardo Palma Cultural Center in the Miraflores municipality.
Since its creation in 2000, CAF's "Music for Life" initiative has served as a flagship program in its efforts to bring about greater social and economic inclusion for at-risk children and young adults.
Inspired by the successful Venezuelan model drafted by conductor José Antonio Abreu, "Music for Life" works to make life better for children and young people with limited resources and has proven to be an excellent social rescue tool through the use of both choral and orchestral musical instructions.