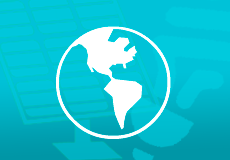 Germany Earmarks €1 Million for Latin American Energy Efficiency Projects
October 25, 2013
CAF and Germany's KfW create a financing program that will benefit the private industrial sector in 18 CAF stakeholder countries
(Caracas, Oct. 25, 2013).To support efforts spearheaded by CAF-development bank of Latin America-and German development bank KfW Entwicklungsbank to improve energy efficiency in Latin America, Germany's Federal Ministry for Economic Cooperation and Development (BMZ) has allocated €975,000 to help finance projects in the category across the region.
The announcement was made during a visit BMZ delegates paid to CAF's headquarters in Caracas, Venezuela. The BMZ group was headed by Paul Garaycochea, chief of the institution's South America operations; Klaus Liebig, KfW regional economist, and Anna Ehlebracht, head of Economic Cooperation.
"The region must become an energy-efficient territory, and for that reason, it must summon the political will to curb climate change and the effects of global warming," said CAF Executive President Enrique García.
García underscored that German-CAF resources will structure an energy efficiency program that will take effect with KfW in 2014. "Additionally, this program will rely on the support from a USD200 million KfW line of credit in 2014 that will support projects in both the generation and distribution sectors."
Projects will mainly focus on private-sector, industrial initiatives in CAF shareholder countries and will basically update reconversion and energy-saving technology in the interest of improving efficiency.
"Attracting resources from other regions into Latin America is a fundamental role for CAF," said García, "and in that regard we established a close relationship with KfW in 1977, which has made the implementation of priority sustainable development projects in the region possible."