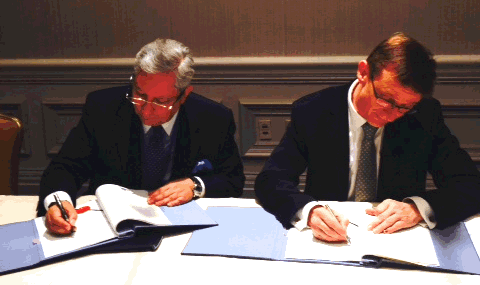 KFW Invests USD200 million to Improve Latin America Public Transportation through a CAF initiative
October 11, 2013
German development bank KfW Entwicklungsbank has opened a long-term USD200 million credit line to invest in upgrades to the metro systems in Panama City, Quito and Lima under the auspices of the Latin American Public Urban Transportation Improvement Program, a CAF-development bank of Latin America-initiative
(Caracas, Oct., 2013) CAF Executive President Enrique García stressed that the agreement will "strengthen public-sector efficiency via improving mass urban transit, which directly impacts the quality of life of Latin America's citizens."
KfW Entwicklungsbank is a strategic partner for matters of public development. Its main objectives seek to reduce poverty, ensure peace and an equitable participation and design of globalization policies. Commissioned by the German government, the entity supports reforms, infrastructure and financial systems to bring about socially and ecologically compatible economic growth. As member of the KfW Bankengruppem, KfW Entwicklungsbank acts a financial partner in development projects worldwide.
Through this new line of credit, both institutions will deepen their relationship and promote sustainable development in the Americas beyond efforts that mitigate short-term risks facing the region.