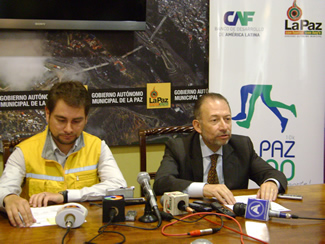 La Paz 3600 10K race will occur Oct. 27 and will promote water preservation
October 01, 2013
Registration runs through Oct. 23
The race will serve as a platform to promote the best use of water resources
The race will provide the La Paz community with 10-kilometer splash of fun and color on a Sunday
(La Paz, Oct. 1, 2013).-"Racing for water, splashing with life" is the slogan for the fifth annual La Paz 3600 10K race organized by CAF-development bank of Latin America-in partnership with the Autonomous Municipal Government of La Paz (GAMLP) as well as private-sector companies. The competition will take place on Sunday, Oct. 27 beginning at 8:00 a.m.
This time around, 3,600 registered runners will receive time control devices to clock their progress in the 10-kilometer race that will kick off at the Plaza Villarroel and run through many streets, avenues and plazas across La Paz and finish at Trillizos bridges.
True to the event's tradition, participants will receive t-shirts, commemorative medals and refreshments upon crossing the finishing line. Water and pep talks will be available at each kilometer.
Also new this year will be the method of distributing the runner's kits, which will help bring awareness to the race across Bolivia. Kits will be handed out at a fair to be held two days prior to the competition at CAF's offices (Av. Arce Nº 2915). Kits will include detailed information on the race as well as information on sporting goods and products from various sponsors.
Registration will run through Oct. 23 and can be completed online at www.lapaz3600-10k.com or in person at the following locations (proper identification required):
Dirección Municipal de Deportes (Av. Mcal. Santa Cruz esq. Colombia, edificio Técnico Municipal, piso 11)
Subalcaldía Sur (calle 11 de Obrajes, plaza Cueto Vidaurre)
Subalcaldía Max Paredes (Max Paredes casi esq. Buenos Aires)
Finally, the first three runners in each category will receive prizes of USD300, USD150, and USD50, while the overall male and female winners will represent Bolivia at the CAF-Marathon Caracas 2014, which will take place at the Venezuelan capital on Feb. 23.
Competition sponsors include Grupo Financiero BISA, Coca Cola and AGB. Further support comes from Tigo, Proyecto Huella Hídrica, Princesa, Imagenbol, Droguería INTI, Amaszonas and Gimnasio GO.
For more information, visit www.lapaz3600-10k.com; Twitter:@lapaz3600_10K; Facebook:Carrera 3600 La Paz.