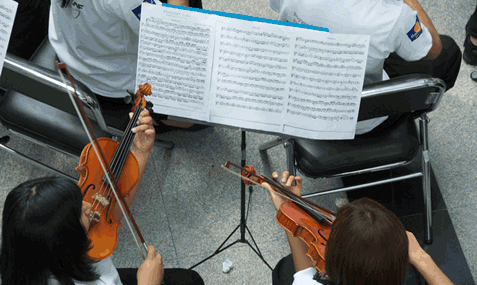 Music to grow already has ten semifinalist orchestras
October 14, 2013
Nineteen symphonic and string orchestras registered for the Contest at a national level. The jury selected ten semifinalists based on the evaluation criteria established in the event's technical bases.
(La Paz, October 14th, 2013).- Ten youth orchestras from different parts of the country were selected as semifinalists in the First "Music to Grow" National Contest for Youth Orchestras of Bolivia. The ensembles qualified for the following phase of the event, which started with the registration of 19 symphonic and string orchestras.
The contest is a joint initiative between CAF, Development Bank of Latin America, the Federation of Private Entrepreneurs of Santa Cruz (FEPSZ, for its acronym in Spanish), the World Bank (WB) and the Ministry of Culture and Tourism of Bolivia, and is supported by the government of the Department of Santa Cruz and the Santa Cruz Municipal Government, the Entrepreneurial Council for Sustainable Development (CEDES Bolivia) and i3Impacto Social(Social Impact).
The registered orchestras presented a video performing pieces by great classical figures such as Beethoven, Bizet, J.S. Bach and Mozart. According to maestro Freddy Terrazas, President of the jury "Each one demonstrated an extraordinary capacity in the musical area, a significant potential reflected in high quality performances showing that there is much talent in Bolivian youths".
The evaluation criteria, established in the contest bases, included: tuning, balance, phrasing and connection, flexibility and expressiveness, coherence in the musical discourse, precision, and social inclusion. These criteria were weighted over a basis of 100 points, and the orchestras that obtained the highest scores proceeded to the semifinal stage.
The ten selected orchestras will be evaluated again by the jury in their respective cities, where they will present live performances of two musical works. From here, five finalists will be chosen to participate in a five day orchestral training workshop taught by maestros of the Venezuela Orchestra System. After this, the two winners will be made public. One in the Symphonic orchestra category, and the other in the string orchestra category.
The contest will conclude with a master concert of the two winning orchestras, to be held in December in the city of Santa Cruz de la Sierra.
The ten semifinalists are:
Orquesta Juvenil del Instituto Superior de Bellas Artes (Santa Cruz de la Sierra)
Orquesta de Santiago de Chiquitos (Santiago de Chiquitos, Santa Cruz)
Orquesta Sinfónica Departamental de Tarija (Tarija)
Orquesta Juvenil Paz y Bien (San Ignacio de Velasco, Santa Cruz)
Orquestas Municipal de Cuerdas San José Patriarca (San José de Chiquitos, Santa Cruz)
Ensamble Padre Martín Schmid (Concepción, Santa Cruz)
Orquesta Infanto Juvenil de Buena Vista (Buena Vista, Santa Cruz)
Orquesta Sinfónica Juvenil de Urubichá (Urubichá, Santa Cruz)
Orquesta de Cámara de la Filarmónica de Oruro (Oruro)
Orquesta Infanto Juvenil Clave Sol (El Alto)