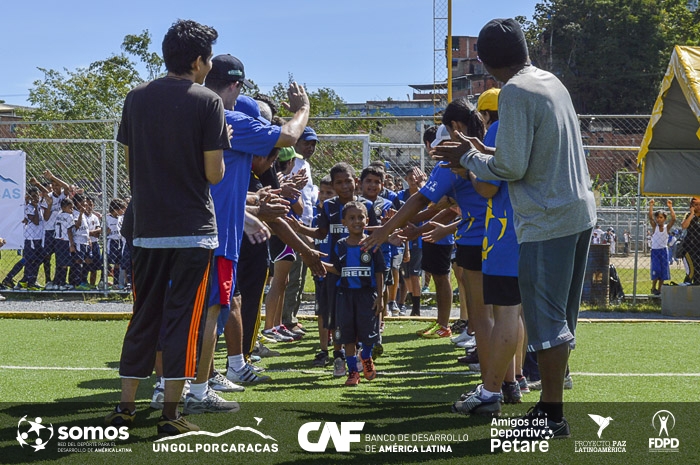 Somos un gol por Caracas will celebrate its first year
October 21, 2013
In this first stage, 36 soccer coaches were trained, through nine training modules, to teach tools for life to 1,500 boys, girls, and youths in order to favor their physical, intellectual, and emotional development.
After 12 months of sustained work in the community of Petare, on Saturday, October 19th, Un Gol por Caracas (A Goal for Caracas), will conduct a social event with more than 250 boys, girls and youths from the Liga Municipal Comunitaria de Futbol Infantil de Sucre (Sucre's Municipal Community Soccer League for Children) to celebrate the achievements of this program which encourages development opportunities through the promotion of soccer as an alternative for social inclusion and cohesion.
During this first year of work, 36 coaches, sports technical personnel, and community leaders were taught, through education modules, to provide a comprehensive human training to 1,500 participants, to favor their physical, intellectual, and emotional development.
SOMOS, sports network for the development of Latin America, is a CAF initiative which in Venezuela is executed by a trilogy made up by theFundacion Amigos del Deportivo Petare(Friends of the Petare Sports Club Foundation),Proyecto Paz Latinoamerica(Latin America Peace Project) (PPLA, for its acronym in Spanish) and theFundacion del Deporte para el Desarrollo(Sports Foundation for Development) (FDPD, for its acronym in Spanish), which got together to create "Un Gol por Caracas", and join SOMOS. At a regional level, this initiative is supported by the Right to Play and Special Olympics Foundations.
The celebration of the first year of SOMOS-Un Gol por Caracas, took place in the La Dorita Sports Center, a place which has been the program's base of action and which has become a meeting place for boys, girls, and youths from different areas of Petare, such as Filas de Mariche, Palo Verde, La Bombilla, Jose Felix Ribas, La Linea, and the community of La Dorita with its coaches, teachers, families, and members of the community.
The training modules implemented during the first 12 months of work were: Motivation; Strategic planning; Respect and coexistence norms; Discipline, Effective communication; Equal opportunities and gender differences; Health, sex and reproductive education; and Life project.
During this stage, values such as desire to improve, respect for others, tolerance, team work, responsibility, honesty, and loyalty, among others, were promoted among the boys, girls, and youths of the community of Petare. It is expected that in the next five years, 5,000 boys, girls, and adolescents will be trained in Venezuela.