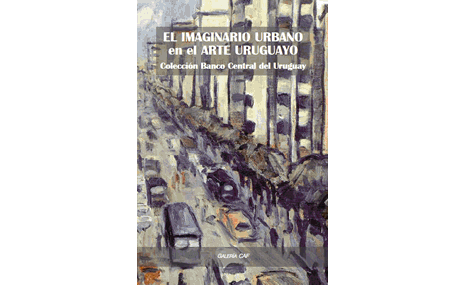 The urban image in Uruguayan art
October 31, 2013
In its gallery, CAF exhibits works from the collection of the Central Bank of Uruguay. The public in Caracas will be able to see the works of Ribeiro, Torres, Baitler, Cuneo, and Damiani, among other distinguished artists from that country.
(Caracas, October 31, 2013). During the inauguration of the exhibition, which will start today in the Institution's Gallery located in Altamira, Enrique Garcia, Executive President of CAF, Development Bank of Latin America, expressed that "with this show, CAF pays homage to a nation with a distinguished urban tradition and with a plastic arts history that strongly expresses urban themes".
The urban stereotype in Uruguayan art is the name of this exhibition whose opening was in charge of CAF's Executive President, Uruguay's Minister of Foreign Relations, Luis Almagro, and the Ambassador of the Oriental Republic of Uruguay in Venezuela, Oscar Ramos.
CAF's Executive President expressed gratitude for the cooperation of the Central Bank of Uruguay "for allowing us to show in our headquarters in Caracas, a magnificent group of works belonging to its art collection", while at the same time he highlighted that it is the first time that CAF Gallery exhibits part of the heritage of the Central Bank of one of its 18 member countries.
Enrique Garcia stated "our Institution is proud to be able to allow the public to appreciate and value this exhibition which, through its plastic arts, shows the great importance that the city, especially in Latin America, has in the economic, social, cultural, and political dynamics of our region".
During the inauguration, Luis Almagro expressed his gratitude to CAF for the exhibition which "refers to historic regions of Uruguay with a sense of mastery". The Uruguayan Minister added that "it is an opportunity that we value and that promotes cultural exchange between sister nations and between two institutions that share their vocation for promoting economic, cultural, and human development".
Calle by Alceu Ribeiro, El Puerto de Montevideo by Alfredo De Simone, Viejo Pocitos by Jorge Páez Vilaro, and En la falda del Cerro by Zoma Baitler, share the walls of CAF Gallery with works by Miguel Angel Bategazzore, Jose Cuneo, Jorge Damiani, Anhelo Hernandez, Ignacio Iturria, Hilda Lopez, Vicente Martin, Hugo Nantes, Dumas Oroño, Manuel Pailos, Nelson Ramos, Luis Solari, Augusto Torres and Horacio Torres.
The urban stereotype in Uruguayan art will be exhibited until March of 2014 at the CAF Gallery, a space that seeks to highlight the multifaceted artistic nature of the 18 shareholder countries of the Latin American financial institution, combining exhibits that include from the most genuine manifestations of popular creativity to the most elaborated expressions of the Ibero-American artistic genius.
Address: Avenida Luis Roche, Torre CAF, Altamira
Open: Monday to Friday, from 10:00 a.m. to 5:00 p.m. - Sunday, from 11:00 a.m. to 3:00 p.m.