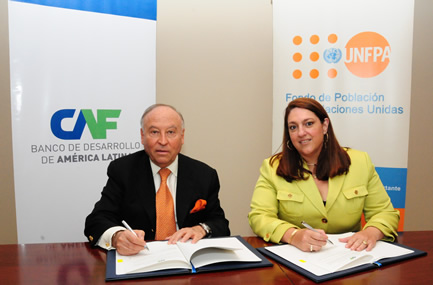 Young people, protagonists of structural changes in Latin America
October 17, 2013
Latin America is undergoing a period of demographic transition characterized by the increase in the proportion of adolescents and youths. These changes in the population structure in the region represent a great opportunity for development, but it can only be capitalized through effective actions and strategic investments.
(Panama, October 17, 2013). With the purpose of collaborating in a multi-sectorial strategy to promote the comprehensive development of young people in Latin America, CAF, Development Bank of Latin America, and the United Nations Population Fund (UNFPA) join efforts and sign a cooperation agreement.
The cooperation between CAF and UNFPA will consist in the design of joint activities in which UNFPA will contribute with its experience. The agreement includes UNFPA's cooperation in the implementation of the recommendations of CAF's report America 2040, which analyzes the means to achieve a more inclusive and prosperous society.
During the signature of the agreement, Enrique Garcia, CAF's Executive President, noted that young people are the most important group in the region, who have the challenge to advance in the fight against exclusion and poverty. He stated that for this reason, "young people, who represent 26 percent of the population, need quality public policies to be able to confront, as strategic actors, the structural changes that the region must undertake to achieve the growth and development that Latin America requires".
At the same time, Marcela Suazo, Director of UNFPA's regional office, stated that the organization sees this new alliance as an opportunity to keep strengthening the tasks regarding health care, education, economic opportunity, and acquisition of skills for young people.
This agreement is part of CAF's young agenda, an initiative that includes the promotion of development projects coordinated by that sector of the population, an investment and training program for young people at risk, promotion of democratic and political values, as well as young leadership; development and support to networks with different educational and employment institutions; support to youth networks and specialized publications; and implementation of a CAF Youth Observatory; among other policies and activities.