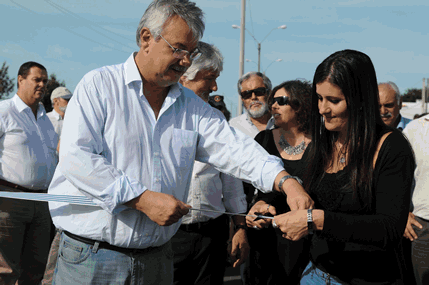 CAF finances reconditioning of route 7 between Tala and Casupa
November 19, 2013
Enrique Pintado, Minister of Transportation and Public Works, highlights the multilateral institution's support to the road investment plan.
(Casupa, November 19th, 2013). National and departmental authorities inaugurated the repair works in a 31 kilometer section of Route 7, which connects the localities of Tala (Canelones) and Casupa (Florida). The works implied an investment of USD 10 million, which were financed by CAF, Development Bank of Latin America.
The works were executed by theConsorcio Tracoviax S.C., in the framework of the Program for Public Investment in Road Infrastructure, promoted by theCorporacion Vial del Uruguay(Road Corporation of Uruguay) (CVU, for its acronym in Spanish), belonging to theCorporacion Nacional para el Desarrollo(National Development Corporation) (CND, for its acronym in Spanish). This plan, which started its implementation in 2009, considers investments for a total of USD 100 million.
Gladis Gennua, CAF's director representative in Uruguay, explains that the program's objective is to reconstruct, rehabilitate, and maintain several highways in the country, belonging to primary and secondary networks. She states that "For CAF, it is key to be able to contribute to the improvement of Uruguay's infrastructure, as it is an essential element to consolidate its economic development".
At the same time, Enrique Pintado, Minister of Transportation and Public Works, stated that "For us, this work is very important due to the importance of Route 7 for the country, as it is really a productive roadway".
In addition, the Minister expressed that for many years "Route 7 had not been the object of any major investments", highlighting that "CAF's financial support made this work possible".
Finally, Pintado stated that the new loan, which is in its evaluation process by the multilateral credit organization, will enable the repair of Route 7 and the rehabilitation of other routes.