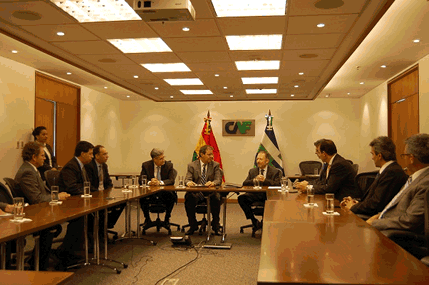 CAF grants loan for USD 20 million to BNB (National Bank of Bolivia)
November 05, 2013
The resources will strengthen the bank's capital with the purpose of increasing credit services, thus promoting the development of enterprising and entrepreneurial activities in the country.
(La Paz, November 05, 2013) The representative of CAF, Development Bank of Latin America, in Bolivia, Emilio Uquillas, and the Vice President of the National Bank of Bolivia (BNB, for its acronym in Spanish), Pablo Bedoya, subscribed a loan contract for up to USD 20 million. The amount is aimed at strengthening the banking entity's capital, contributing mainly to finance the country's productive sector.
"The purpose of this operation is to support the strengthening of the Bolivian banking system. CAF acts as a second tier bank, granting lines of credit to development financial institutions, private commercial banks, or qualified companies from diverse productive sectors, so that they can later offer financing to specific sectors that contribute to the country", explained Uquillas.
Bedoya expressed gratitude for the financial institution's trust, and explained that the loan is aimed exclusively at strengthening the patrimonial position of the BNB, and increasing its credit portfolio.
Bedoya also stated that "this loan will help the bank keep growing, reach more regions in Bolivia, more people, and more productive sectors, to continue providing comprehensive financial services, and working for the accessibility of banking services in the country,
He ensured that the entity will continue "supporting the diverse sectors of the economy", and plans to expand its services to areas such as Pando, for example, where the productive activity, according to his criteria, has grown substantially.