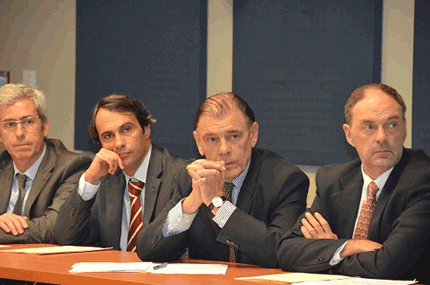 European commission and caf strengthen their cooperation
November 14, 2013
Representatives from the European Commission visited CAF's headquarters in Caracas. The meeting shows the financial institution's active presence and constant support to the regional integration processes and the continuous strengthening of bi-regional relationships.
(Caracas, November 2013).- Showing CAF's active presence and constant support to regional integration processes, a delegation of the European Commission visited the multilateral's headquarters in Caracas to strengthen the relationship between both entities, exploring potential cooperation areas and opportunities for European companies that are active throughout the region.
The meeting, coordinated by Katariina Leinonen, first secretary - Head of the Political, Press, and Information Section of the European Union, and Hugo Sarmiento, CAF's Financial Vice President, was useful for the representatives of the different areas of CAF to present the Institution's programs and activities, specifically those related with the areas of energy, infrastructure, and water and sanitation.
The European delegation was made up of representatives from Germany, Austria, Belgium, France. Portugal, Spain, United Kingdom, and Denmark, among others.
The meeting was framed within the Memorandum of Understanding subscribed between the two entities in 2010, seeking synergies that would consolidate and strengthen the strategic bi-regional association, especially in areas of sustainable development such as transportation, energy, infrastructure, social development, employment, strengthening of productive sectors, and governance, among others.
During the visit of the representatives of the European Union, coincidences were found with respect to the need to continue establishing cooperation bridges between both regions, building up a renewed vision of their relationship. CAF, made up of 16 countries of Latin America and the Caribbean and two countries of the European Union, promotes a comprehensive development agenda that supports governments and the civil society in the design and implementation of public policies and the promotion of bi-regional consensus.