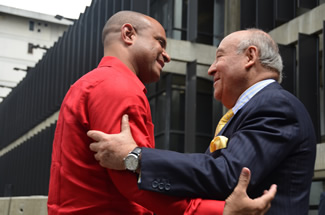 Haiti's Prime Minister Visited CAF's Headquarters
November 14, 2013
During his recent visit to Caracas, Laurent Lamothe met with Enrique Garcia.
Caracas,November 2013).Laurent Lamothe, Prime Minister of the Republic of Haiti, accompanied by a high level delegation, recently visited the Caracas headquarters of CAF, Development Bank of Latin America, and met with Enrique Garcia, Executive President of the multilateral institution.
The meeting ratified the shared will to continue promoting the execution of development projects in the Caribbean country, in the framework of the Solidarity Fund for Haiti, created last July by CAF's Board Resolution 2038.