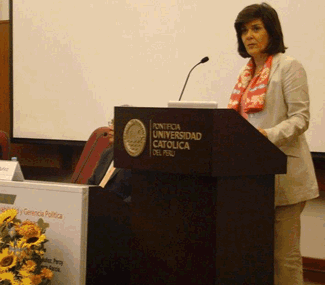 550 Peruvian leaders trained in governance and political management
CAF promoted training in seven decentralized headquarters in the country, in alliance with the Pontificia Universidad Católica del Perú (PUCP) (Catholic University of Peru), and the George Washington University's Graduate School. The program seeks to train a critical mass with management and negotiation capacities, communication management, and construction of political, economic, and social feasibility.
(Lima, December, 2013).CAF, Development Bank of Latin America, Peru's Catholic University (PUCP for its acronym in Spanish), and George Washington University's Graduate School, closed the "XI Program on Governance and Political Management", having trained 550 people in seven regions of the country, among which were authorities, civil servants, and representatives of the civil society, in order to advance the transformation processes with low levels of conflict.
Eleonora Silva Pardo, CAF's Director Representative in Peru, was present in the act, as well as Henry Pease Garcia, Director of PUCP's School of Government and Public Policies, and Ismael Muñoz, Coordinator of the Governance and Political Management Program at the PUCP.
Silva Pardo stated that CAF considers that although mobilizing resources to finance infrastructure projects is an essential aspect for the development of nations, the multilateral entity also believes that in order to consolidate a comprehensive growth in the region, it is a priority to promote a democratic culture and ethical values aimed at strengthening Latin American societies.
Thus, the Governance and Political Management Program fills a niche as, according to her, it connects clearly with CAF's vision to support countries in their social, political, and economic needs and, what is essential, guide these actions to train citizens that act as transmitters of progress and social equity.
In addition, Ms. Silva Pardo stated that the strategic value of the program lies in the importance of training to guide the future social and political actors, instilling the importance of recognizing and consolidating a comprehensive vision of the political, economic, and social management, of strategic communication, and effective leadership, all of which must result in better governance in Peru.
Ms. Silva Pardo stated that "CAF will continue to support these types of initiatives, as it considers that if there is a critical mass of actors with the capacity to solve conflicts and generate consensus, institutional development strengthens and the countries' degrees of governance improve.