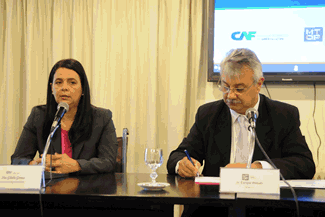 CAF and the Ministry of Transportation carried out working sessions regarding transportation infrastructure planning
Uruguay,
December 10, 2013
During the Strategic and Territorial Planning for Transportation Infrastructure Conference, the region's requirements regarding investments in the sector were analyzed, and the importance of making decisions based on technical studies was noted.
(Montevideo, December 10, 2013). CAF, Development Bank of Latin America, and the Ministry of Transportation and Public Works (MTOP, for its acronym in Spanish), organized the Strategic and Territorial Planning for Transportation Infrastructure Conference.
During the meeting, Gladis Genua, CAF's Director Representative in Uruguay, stated that infrastructure is necessary for the development of the region, highlighting that studies suggest that investments in infrastructure should reach at least 5 percent of GDP to take a leap toward development. She warned that "it is not only about investing, but doing so in an orderly and well planned manner, and make decisions based on technical studies that are adequate to the realities of each country".
Genua also highlighted that "encouraging the development of infrastructure in Latin America constitutes one of the key axis of the work promoted by CAF", and in this framework, "the South-South cooperation should be strengthened by presenting the positive experiences in the region regarding infrastructure strategic and territorial planning, in order to obtain the elements that are of interest and which may be adjusted to the situation in Uruguay".
At the same time, the Minister of the MTOP, Enrique Pintado, also highlighted the importance of providing technical support for investment decisions in the sector, enabling to traverse "more efficient roads". The authority pointed out that Uruguay has the vocation to be a great logistic center, and become "one of the entry and exit doors of the region", stating his bet to be a "part of the Valparaiso-Santos Corridor". He emphasized the importance of planning and coordination between ministries as a tool to define the route that the country should follow to achieve its vocation, and how timely this moment is to undertake this task.
The conference allowed for the dissemination of some of the best practices that are applied in the region regarding strategic transportation infrastructure planning.
In this regard, international consultants Roque Caggiano and Alejandro Sazatornil, and CAF's Executive Andres Alcala, conducted a complete presentation on a plan underway in Colombia, and highlighted the importance of carrying out a prospective study of supply and demand for transportation.