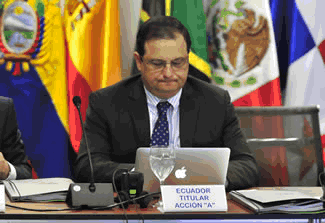 CAF Approves USD 275 million Loan for Ecuadorian Sanitation Programs
Ecuador,
December 03, 2013
Approved in Lima, Peru, the loan will finance a third leg of Ecuador's Environmental Sanitation for Community Development Program. More than 3.5 million Ecuadorians have benefited from past program endeavors so far
(Lima, Dec. 3, 2013).-CAF-development bank of Latin America-Executive President Enrique García, Ecuadorian Finance Minister Fausto Herrera, and María Soledad Barrera, General Manager of state-owned bank Banco del Estado, signed a USD275 million loan agreement in Lima recently opening a third stage of Ecuador's Environmental Sanitation for Community Development Program (Promadec III).
After approving the loan, García stressed that "the government of Ecuador has embarked on a leadership position in its efforts to provide better drinking water, sewage and solid waste management services to over 200 municipalities in the country. This effort is a major one needed to bring about greater equality and social inclusion for large population groups, one that complements other projects already carried out in phases I and II of Promadec."
During the first two Promadec phases, some 430 projects received financing that benefited 3.5 million Ecuadorians by improving access to clean drinking water and basic sanitation services.
The program's third phase, García stressed, will improve "living and health conditions and bring about greater social inclusion for inhabitants in both rural and urban areas in Ecuador who live under the highest poverty rates."
Promadec III falls under the framework of Ecuador's Prosaneamiento program, which aims to close the poverty gap by broadening coverage of basic services.