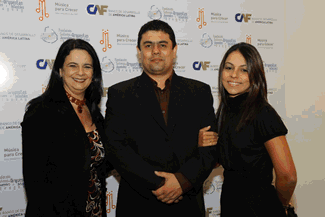 CAF celebrated ten years of social inclusion through music
December 11, 2013
CAF's Music to Grow Program supports the activities of theFundación Sistema de Orquestas Infantiles y Juveniles del Uruguay(Foundation for the Children and Youth Orchestra System of Uruguay), which promotes musical training for 1,200 socially vulnerable children in Uruguay.
(Montevideo, December, 2013). With a presentation by the Metropolitan Youth Orchestra in the Teatro Solis, CAF, Development Bank of Latin America, celebrated the tenth anniversary of its social inclusion program "Music to Grow". During the event, representatives from invited companies could learn about the details of this initiative aimed at promoting technical and artistic training for socially vulnerable youths.
Music to Grow, which started to be implemented at a regional level in 2000, includes the organization of orchestra, choral and luthier training workshops with the objective of promoting social integration among Latin American youths, to provide them with first line musical learning.
Gladis Genua, CAF's Director Representative in Uruguay, stated that "from its beginning, the program defended the conviction that music may be a tool for the comprehensive development of children and youths, by providing them with support that will drive them away from the problems that affect lower income social groups".
At a local level, the initiative has supported the development of the Foundation for the Children and Youth Orchestra System of Uruguay, who offers children from 5 to 15 years old, from different parts of the country, the possibility of participating in intensive workshops without requiring prior musical experience.
Currently, the Foundation works with 1,200 children, and supports the activities carried out by neighborhoods in Montevideo, such as La Teja, Santa Catalina and Maroñas, and in the departments of Florida, Lavalleja, Tacuarembo and Durazno. Its President, Ariel Britos, stated that CAF's support has been essential for the Foundation, by promoting the incorporation of methodologies that have been successful in other countries, and the exchange with international teachers.
Britos added "we are betting on continuous growth, and our goal is to incorporate 7,000 children to the system and provide a musical instrument to each child in Uruguay. To achieve these goals, it is necessary to consolidate the idea that culture is not an expense but an investment. For this reason we hope that more entities and organization will join the support granted by CAF, and will help us continue our job for the physical and spiritual development of young people."