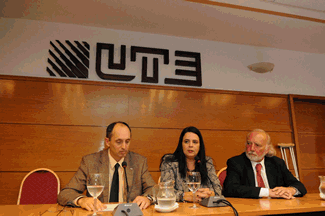 CAF grants a USD 200 million loan to UTE
Uruguay,
December 09, 2013
The Uruguayan state-owned company will use the funds to strengthen the national electricity system by expanding and improving the distribution network, and for the acquisition of machinery and equipment.
(Montevideo, December 9, 2013).CAF, Development Bank of Latin America, granted a loan for USD 200 million to UTE, to be paid in 12 years. The company will use the funds to promote its Program to Strengthen the Energy Sector.
The implementation of this initiative will enable improvements in the low and medium tension power lines, increasing the reliability of the national electric system. In addition, network expansions will be carried out in order to incorporate new users in urban and rural areas, and aerial lines and underground cables will be installed. The program also considers the acquisition of equipment and machinery to strengthen the operating units that complement the distribution activities of electric energy.
Gladis Genua, CAF's Director Representative in Uruguay, pointed out that for the Institution "it is key to promote the development of the country's energy sector". In this regard, she informed that CAF's loan portfolio in Uruguay "exceeds USD 400 million, of which more than 20% corresponds to the energy sector".
Genua reminded that CAF supported the construction of the combined cycle thermal plant Punta del Tigre, through a USD 180 million loan. This work added 300 MW of installed firm power to the Uruguayan electric system.
In addition, the multilateral organization recently granted a loan for USD 86.2 million to Gas Sayago S.A, which will be used to carry out infrastructure works connected to the regasification plant which will be constructed in Montevideo. These funds will be used to carry out dredging tasks in the area where the plant will be installed, and for the installation of a gas pipeline.
At the same time, UTE's President Gonzalo Casaravilla, stated that "CAF is a strategic partner" for the state-owned company, and highlighted the support provided to implement an investment plan of "small works" that are essential for electric companies.
Casaravilla expressed that in this case, financing will be allocated to improve the quality of the distribution service, in order to provide adequate services to the increased demand in the country.