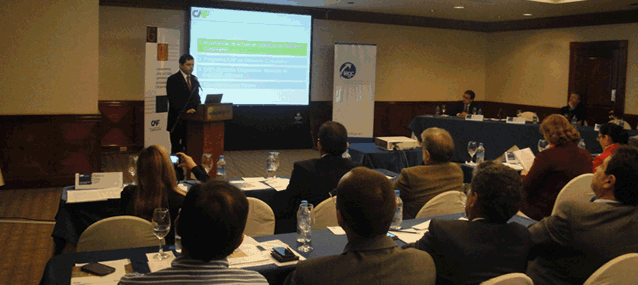 CAF presented the new edition of the "Guidelines for a Latin American Code of Corporate Governance"
Uruguay,
December 09, 2013
CAF took on the challenge of reviewing the published guidelines of Corporate Governance, in order to provide companies, operators of capital markets, and those responsible for public policies, with a set of basic norms that constitute the basis for good Corporate Governance.
(Quito, October, 2013). CAF-Development Bank of Latin America-, jointly with the Ecuadorean Corporate Governance Institute, launched a new edition of the Guidelines for a Latin American Code of Corporate Governance.
For Hermann Kruztfeldt, CAF's director-representative in Ecuador, "this new edition of the guidelines responds to a necessary and extremely valuable consideration that enables making adjustments and taking on challenges that result from the dynamic environment".
Since 2004, when the first version of the Guidelines, Corporate Governance as a discipline has experienced a noteworthy evolution both at a global level as well as in the region. The guidelines established in this document are based on how the global financial crisis evidenced the convenience of updating and deepening the practices of Corporate Governance applicable to companies and, in particular, to financial entities, especially with respect to risk management, remuneration schemes for the members of the Board and High Management, and the dynamics and operations of the Boards.
During the event, Andres Oneto, principal executive of CAF's Direction of Pubic Policies and Competitiveness, spoke about the challenge faced by all countries in Latin America to incorporate good Corporate Governance practices to medium-sized companies. In this respect, he stated the importance of generating tools and mechanisms to sensitize these types of companies regarding the benefits of a continuous application of Corporate Governance principles to achieve greater efficiency and competitiveness.
At the same time, Jose Gomez-Zorrilla, Manager of IAAG Consultoría & Corporate Finance, stated that the importance of reviewing the Corporate Governance Guidelines was even more visible after the recent international financial crisis. "There was a need to review these guidelines, as we were concerned about how the reality of the companies had evolved and how those changes generated new challenges".
The guidelines have been updated to respond to new entrepreneurial realities, and the remaining weaknesses in the effective functioning of Corporate Governance in many companies and entities. This has been done by incorporating new topics such as management of entrepreneurial groups, responsibility of financial entities in the promotion of corporate governance, and control architecture.
The Guidelines presented by CAF provide a programmatic vision based on a set of Corporate Governance practices to be implemented by the companies, to strengthen their effective functioning, increase their sustainability, and protect the rights of shareholders, enabling an improvement of the companies' competitiveness.
To download the document: www.caf.com/es/lineamientos-gobierno-corporativo.