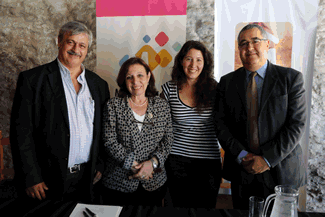 Museo del Carnaval (Carnival Museum) presented a web platform developed with CAF's support
December 12, 2013
Starting on January 23, 2014, the Museo del Carnaval will have a web platform that will enable the marketing of tourism and cultural activities that take place in Montevideo. The tool was developed with funds contributed by CAF.
(Montevideo, December 12, 2013) The Museo del Carnaval presented a web platform designed to market tourism and cultural activities in Montevideo, an initiative that was supported by resources from CAF, Development Bank of Latin America.
The tool, which will enter operations on January 23rd in the web site www.museodelcarnaval.org, was supported by the financial institution in the framework of its program to support the Museo del Carnaval, with a contribution that currently reaches USD 113,000 to the trust fund that manages the Museum.
Juan Carlos Elorza, Principal Executive of Public Policies and Competitiveness at CAF, explained that "culture is in the essence of CAF's vision of comprehensive development, due to its capacity to provide greater social cohesion and make development sustainable. This contribution to the Museo del Carnaval is based on this conviction".
In 2012, the multilateral organization contributed to consolidate the creation of the Documentation Center of the Museo del Carnaval. In this second stage, CAF provided non-reimbursable resources to accompany the agreement signed by the Museo del Carnaval and the Tourism Conglomerate of Montevideo with the objective of improving management with elements such as a sale site for online strolls.
Juan Castel, Director of Institutional Communication at the Museo del Carnaval, higlighted the importance of having "institutions that protect and finance" cultural initiatives, expressing gratitude for CAF's constant support.
In addition, he stated that in the beginning, the platform will offer seven cultural products, five of them linked to the Carnaval: "Guided tour of the museum", "Thematic stroll around the city", "Night Stage", "Murga Caravan" (Murga is a type of popular music), and "Gala Carnival".
At the same time, the mayor of Montevideo, Ana Olivera, highlighted that the platform will contribute to disseminate the cultural attractions of the Uruguayan capital. She also stated that "the use of new forms of communication constitute an advance for the city, the country, and entrepreneurs".
The consolidation of this initiative emerged form an alliance between the Ministry of Tourism and Sports, The Administration Office of Montevideo, the Tourism Conglomerate of Montevideo, the Museo del Carnaval, and diverse organizations of the city that support cultural activities.