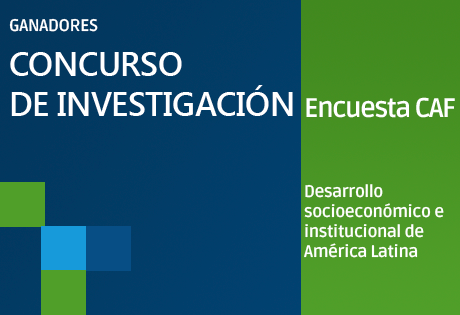 Winners of the Encuesta CAF research competition
December 06, 2013
The awarded topics included happiness by gender, access to financial products, quality of life, and social mobility, access to public services, inequality, and access to entrepreneurial activities.
The jury decided to award six research studies instead of three, due to the quality of the proposals presented. Each one will receive USD 2,000 for its implementation. The winning proposals were:
"Happiness gap by gender: evidence from 24 cities of Latin America", by María Laura Arrosa, from Uruguay. The proposal addresses questions related to the rights between men and women regarding this issue.
"Climbing the social ladder? An empiric study regarding quality of life and social mobility in Latin America", by Mízar Alvarado Díaz and Carlos Rodríguez Prado, from Venezuela. This work seeks to determine the relationship between social mobility quality of life.
"Determinants of access to financial products in Latin American homes", by Santiago Rodriguez-Raga and Felix Francisco Riaño Rodríguez, from Colombia. It analyzes the variables that most affect access to different financial products for homes.
"Exploring the determinants of inequality in Latin America: new evidence of the Encuesta CAF(CAF Survey), by Andres Cesar and Pablo Garriga, from Argentina. A proposal to study the changes in poverty and income distribution in the region.
"Inequality in access to public services, and effects on the satisfaction levels of individuals", by Diego Campoy from Uruguay and Cecilia Parada from Argentina. Its purpose is to establish the inequality experienced by Latin American inhabitants with respect to water, energy, gas, and sanitation.
"Unequal opportunities in access to enterprising activities in Latin America", by Natalia Carmona Paleo, Pablo Ramirez Letelier and Sebastian Reitze Domas, from Chile. The purpose it to find out if there are significant differences between countries regarding opportunities to initiate entrepreneurial activities.
The research competition, Encuesta CAF 2013, received 28 proposals fromArgentina, Chile, Colombia, Ecuador, Peru, Uruguay and Venezuela, related to aspects connected to Latin America's socio-economic and institutional development.
The initiative was created to promote the use of the Encuesta CAF data base among undergraduate and graduate students, and young teachers and researchers in Latin American universities and research centers. The information gathered annually in different cities of the region to feed the Reporte de Economía y Desarrollo (RED)(Economy and Development Report (RED, for its acronym in Spanish), which is published since 2004. The resulting data is available for free download and use at /es/areas-de-accion/politicas-publicas/investigacion-y-estudios-economicos/encuesta-caf