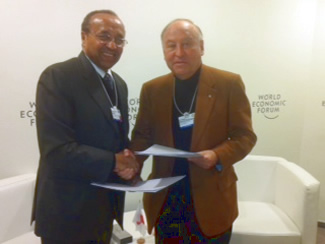 CAF and IFRC further strategic cooperation on social development in Latin America
Davos, January 24, 2014- The CAF - development bank of Latin America - and the International Federation of Red Cross and Red Crescent Societies (IFRC), signed an agreement today in Davos, Switzerland aiming to strengthen the cooperation initiated in 2013 between the two institutions on issues of common interest related to social and sustainable development in Latin America.
The agreement signed by Mr. Enrique García, CAF Executive President, and Mr. Bekele Geleta, Secretary General of the IFRC - provides a general framework for cooperation between CAF and the Red Cross in Latin America. The first joint project is implemented under the Haiti Solidarity Support Programme, established by CAF in 2013 with the objective of channeling financial resources from CAF shareholder countries and third parties, in order to will promote Haiti's recovery and socio-economic development.
"The cooperation with the Red Cross enables CAF to successfully implement the first operation for the reconstruction of Haiti with funds from the Haiti Solidarity Support Programme", said Mr. Garcia. "This is - added Garcia - a CAF response to demonstrations of solidarity and commitment expressed by the governments of the region to this country, and the devastating consequences resulting from the 2010 earthquake."

"This agreement marks an example that so far we didn't have in the Americas, of an international bank becoming part of humanitarian projects that have community development objectives. This is just the beginning, we look forward to a long term relationship and collaboration", said Mr. Geleta.

The agreement will enable collaboration through the development and implementation of projects in areas such as health; water and sanitation; migration; environment; poverty reduction; social inclusion, coexistence and citizen security; agriculture; institutional strengthening of government agencies and civil society; and community projects to promote development in Latin American.

The IFRC has a very important role in Haiti (with 129 international delegates and 1,700 national staff) where it has implemented a range of successful projects. In the past 4 years the Red Cross has supported more than 43,000 families with better housing, 41 schools and 24 health centres. Community participation in projects and coordination with the national government are central to the success of their projects.

The Haiti Solidarity Support Programme received an initial contribution of approximately 300,000 USD from the Presidential Agency for International Cooperation of Colombia in November 2013. This is funding a housing rehabilitation operation and the fight against cholera through the provision of water and sanitation in schools in Port-au-Prince through the Red Cross.

These actions will benefit around 1,300 Haitians, including the inhabitants of the rehabilitated homes (200 people) and students and employees of five schools .