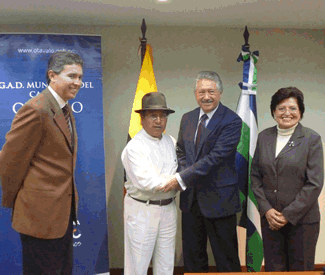 CAF backs Ecuador's Otavalo municipality modernization services
CAF will help optimize resources and time management operations to improve services and institutional management to better attend to the needs of Otavalo's citizens.
(Quito, Jan. 27, 2014)-CAF-development bank of Latin America- and the autonomous municipal government of Ecuador's Otavalo Canton, through their respective representatives Hermann Krützfeld and Mario Conejo, have signed an agreement to strengthen institutional management and provide a one-stop-shop for municipal services.
The accord seeks to improve client-attention services via enhanced online communications processes that allow for the alliance of different organizations as well as improvements in the flow of information, monitoring of activities and results analysis.
"CAF constantly strives to support local and regional development activities and identify ways to create public policies that take human development into account and open the door to balanced growth of local economies with the help of local governments and institutions," said Hermann Krützfeld, CAF's representative director in Ecuador, at the signing ceremony.
"This agreement will optimize resources and time, which no doubt is a positive accomplishment that will be achieved to effectively attend to the needs of Otavalo citizens regarding municipal services," said Mario Conejo, Otavalo's mayor.
The project will improve processes, procedures and services outlined under existing norms as well as implement and upgrade an Integrated Municipal Information System and online revenue collections systems. It will launch two information kiosks and institutional web services, open a Call Center in a municipal services window and roll out advertising campaigns to convey the message that the municipality's new and improved services will soon be available.