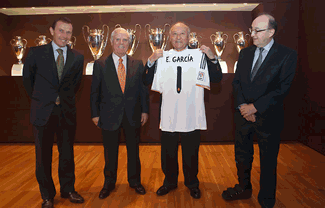 CAF, Real Madrid Foundation Team Up to Promote Sports as an Educational, Development and Social Inclusion Tool
January 14, 2014
The Real Madrid Foundation joins forces with CAF's SOMOS program to touch the lives of 120,000 Latin American children and adolescents through development and social inclusion programs
The team's first projects will kick off in Argentina, Paraguay and Venezuela
(Madrid, Jan. 14).-CAF-development bank of Latin America-has joined forces with the Real Madrid Foundation to promote sports as a tool to improve education, development and bring about greater social inclusion in line with CAF's SOMOS Sports Network for Latin American Development initiatives.
Both institutions signed an accord in Madrid that will see their relationship begin with work in schools in Argentina, Paraguay and Venezuela. The signature saw the participation of CAF Executive President Enrique García and the bank's European Director Guillermo Fernández de Soto. Real Madrid Foundation Vice President Enrique Sánchez, Director Julio González Ronco and Real Madrid Institutional Relations Managing Director Emilio Butragueño were also present.
"For CAF it is essential to expand the reach of existing programs developed in partnership with Right To Play and The Special Olympics as well as find new partners to promote the use of sports as a basic necessity and an effective development and social inclusion tool for children and adolescents in Latin America," said Enrique García at the signing ceremony.
The partnership will arrange financing for athletic programs in three schools, two of which are currently Real Madrid partner schools located in the suburbs of Buenos Aires, Argentina, and in Itauguá, Paraguay. The third school is located in the Petare area of Caracas, Venezuela, which will provide technical support under the auspices of SOMOS-Un Gol Por Caracas, which attends to the needs of 1,500 children and adolescents in Venezuela.
"We are very pleased to team up with an institution that promotes sustainable development and regional integration. With CAF's cooperation we will attend to the region's children and adolescents in the most vulnerable areas, where the Real Madrid Foundation seeks to develop its social development and athletic endeavors," said Emilio Butragueño.
"Through sports, these young boys and girls will receive educational training in values such as overcoming obstacles, teamwork and respect."
García pointed out that "through its SOMOS network, CAF aims to create opportunities that bring together social activists, public and private institutions and community leaders committed to utilizing sports as a Latin American development tool. Therefore, we invite all those who want to join us in this cause and help build opportunities for a better tomorrow for our children and adolescents."
CAF's alliance with the Real Madrid Foundation complements the development bank's existing efforts with 14 Latin American institutions who share its goal of improving the lives of 120,000 children through social inclusion and development programs, specifically with the use of soccer as a way of bringing about lasting social change.
With these programs, CAF seeks to go beyond the use of economic assistance to bring about social change, especially by promoting sports as a development mechanism that generates knowledge and the necessary tools that share the objectives of the bank's member countries seeking to improve social inclusion for the region.