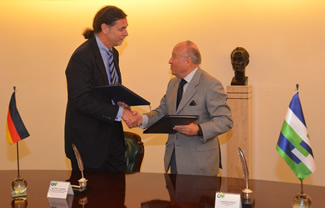 CAF Receives EUR285 Million from German Government to Fund Latin American Climate Change and Water Treatment Projects
Alemania,
January 28, 2014
CAF Executive President and Germany's Ambassador to Venezuela sign accord in Caracas
(Caracas, Jan. 28, 2014).At a signing ceremony held at the CAF-development bank of Latin America-headquarters in Caracas, the Federal Republic of Germany granted the Latin American development bank EUR285 million in financing arranged by German development bank KfW. The loans bring CAF's total financing approved by KfW to more than USD800 million in the last 10 years.
CAF Executive President Enrique García and Germany's Ambassador to Venezuela Walter J. Lindner signed the accord opening up the financial arrangement. The agreement will fund projects mitigating the effects of climate change (up to EUR150 million) and water and sanitation projects (up to EUR135 million).
To highlight the amicable relations between the Federal Republic of Germany and CAF, García emphasized that "resources coming from Germany will strengthen our actions in areas that directly contribute to improving the quality of life for everyone in the region via increased investments in water and sanitation projects and in projects that lead to low carbon-emission economies and optimize our ability to build international development strategies."
"Climate change, efficient use of energy and precious water resources are of immense importance. That is why the Federal Republic of Germany is working intensively with Latin America," said Lindner. "As a development bank, CAF plays a noteworthy role in bringing about impressive economic progress while at the same time promoting environmental awareness in all of its programs. The Federal Republic of Germany expects our collaboration with CAF to produce concrete and tangible results for the people of Latin America."
In October of 2013, Germany's Federal Ministry of Economic Cooperation and Development (BMZ by its German acronym) allocated EUR975, 000 in grants to fund projects that improve energy efficiency in the region.
These projects will benefit private-sector industrial concerns in CAF shareholder countries and will largely help upgrade technology and improve efficiency to save energy.
During the last three years, cooperation with KfW and the German government has allowed access to EUR27.5 million in grants to finance pre-feasibility and feasibility studies in the areas of energy, environmental conversation, transportation, water management and sanitation.