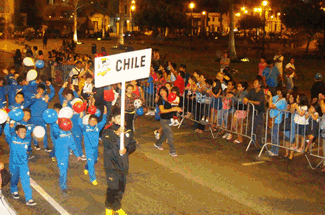 Copa de la Amistad hosts 240 latin american youth soccer teams
Youth soccer teams from Latin American countries participated in a tournament organized by the Cantolao Sports Academy and the Callao Regional Government in Peru with support from CAF-development bank of Latin America.
The event seeks to improve the quality of lives for at-risk children and adolescents through the use of sports as a tool for social inclusion.
(Lima, Jan. 27, 2014) Under the framework of its SOMOS Sports Network, CAF-development bank of Latin America-welcomed youth soccer teams from Brazil, Colombia, Chile, Ecuador, Guatemala, Mexico, Panama and Peru to participate in the XXXI Copa de Amistad soccer tournament for children and adolescents, which concluded Feb. 2. The tournament took place at various sporting arenas in Lima and El Callao under the organization of the Cantolao Sports Academy and the Regional Government of Callao.
Through initiatives like its SOMOS Sports Network and events such as the Copa de la Amistad, CAF stresses the use of sports in its shareholder countries as a tool to improve the quality of life for at-risk children and young adults, especially those from low-income sectors of society, by enabling them to make changes to their own lives.
"Through SOMOS, the necessary resources can reach programs that instill and develop values, educational and life skills, social integration, gender equality, health and disease prevention as well as include those with disabilities," said Eleonora Silva, CAF's representative director in Peru, at the tournament's inauguration.
The tournament's opening ceremony was marked by a parade of the participating teams, which took place in the Plaza Matriz de La Punta, in Peru's El Callao province.
CAF's Copa de la Amistad is one of the most important soccer tournaments of its kind in Latin America, and a staple on the international calendar of youth soccer tournaments, counting with the approval of FIFA and FPFParticipating teams included Corinthians (Brazil), Monaguillos and Fortaleza (Colombia), Huracán, Arica College and Club Deportivo María Vargas (Chile), Independiente del Valle and Gad Arenilllas (Ecuador), Club Xelaju (Guatemala), Necaxa (Mexico), Colegio San Agustín (Panama) and Cantolao (Peru).
Previous Copa de la Amistad tournaments saw the skills of young athletes, who would later become soccer superstars, including Argentina's Lionel Messi and Javier Zanetti, Uruguay's Álvaro Recoba and Bolivia's Marco Etcheverry. Peruvian alumni include Jefferson Farfán (FC Shalke 04), Claudio Pizarro (Bayern Munich), Paolo Guerrero (Corinthians) and Carlos Zambrano (Eintracht Frankfurt).
The use of sports to instill values and a sense of healthy competition in Latin American children and adolescents is the tool of choice for SOMOS to approach institutions such as the Cantolao Sports Academy and support them with a working-development methodology to bring about comprehensive development for its participants.