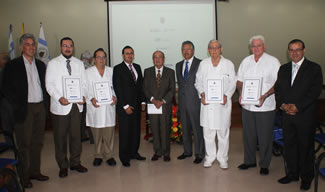 Hospitals receive environmental certificiation and draft manual on medical pollution control
January 24, 2014
The project aims to streamline waste management in four Guayaquil medical facilities.
Four hospitals involved are first in Ecuador to receive environmental certification.
(Guayaquil, Jan. 24, 2014)-Representatives from Ecuador's Ministries of the Environment and Public Health, the Municipality of Guayaquil, managers, technical directors, public and private healthcare administrators along with officials from CAF-development bank of Latin America-were on hand to witness four hospitals: Luis Vernaza, Gineco Obstetrico Enrique C. Sotomayor, Niños Roberto Gilbert and Institute of Neurosciences, receive environmental certification.
All four medical facilities operate under the management of Junta de Beneficencia de Guayaquil.
The environmental certification process consisted of arduous compliance work, verifications, obtaining various permits, certifications and approval of environmental management plans and environmental impact studies.
To that effect, the Junta de Beneficencia de Guayaquil received non-reimbursable CAF resources, which helped the organization hire consultants to conduct necessary studies and environmental management plans.
For Hermann Krutzfeltd, CAF's representative director in Ecuador "environmental licenses for four hospitals will allow for a healthy environment and reduce risk exposure in the country's hospitals in line with CAF's environmental strategies."
Freddy Matamoros, coordinator of the Environment Commission at Junta de Beneficencia de Guayaquil and an expert on the issue, expressed his satisfaction by recognizing that these hospitals are the first in Ecuador to attain environmental certification.
During the process, registration as generators of hazardous waste with the Ministry of the Environment was completed. Once the Environmental Impact Assessment and the Environmental Management Plans were approved and adjusted to comply with the environmental authority, requests for certification were submitted.
Participating hospitals were also required to take out necessary insurance policies to ensure strict compliance to their environmental management plans as well as adhere to rigorous monitoring activities to control emissions of noise, particulate matter, air pollution and wastewater.
Junta de Beneficencia de Guayaquil and CAF also drafted a report on the hospitals' pollution controls so that they can be replicated in other hospitals inside and outside the country.