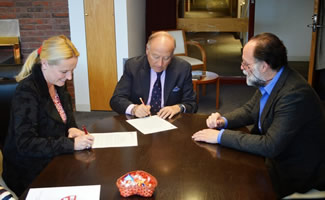 CAF and Harvard University sign agreement
February 18, 2014
By means of this agreement, CAF, Development Bank of Latin America, grants resources to the prestigious University to promote research regarding subjects of interest for the region.
(Boston, February 14th, 2014).- Today in Boston, Enrique Garcia, Executive President of CAF, Development Bank of Latin America, and Iris Bohnet, Dean of the Kennedy School at Harvard University, subscribed a technical cooperation agreement through which the international financial institution grants resources to the University to promote reflection and analysis regarding subjects of interest for Latin America.
"CAF's connection with an extensive network of think tanks and universities at a regional and global scale allow it to deepen its work in favor of exchange and generation of knowledge regarding the development of Latin America, and the critical factors for its development", said Enrique Garcia after the signature.
During the conference he delivered at the International Center for Development, CAF's Executive President stated that "to face the structural challenges of Latin America, which limit its development, it is necessary to invest more in infrastructure and education, and to strengthen the institutions, and highlighted the importance of investment in research and technological innovation to reach higher, quality, and inclusive growth, that allows for the improvement of the lives of Latin Americans".