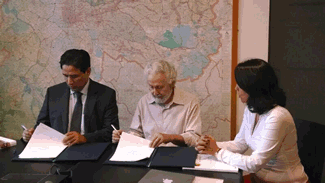 CAF to Train More Than 1,300 City Officials in Sustainability
February 28, 2014
CAF and Avina Foundation sign agreement to raise awareness and provide tools to 13 Brazilian cities under the sponsorship of the development bank's "Sustainable Cities" program
(SãoPaulo, Feb. 26,2014).To promote sustainable development at the municipal level in the region, CAF-development bank of Latin America and Avina Foundation signed an agreement to train more than 1,300 local public administrators and civic leaders to provide sustainability tools in 13 Brazilian cities under the sponsorship of CAF's "Sustainable Cities" Program.
Red Nossa São Paulo will manage the program in conjunction with Brazilian Network for Fair and Sustainable Cities and Ethos Institute to provide training sessions that will raise awareness of the need to bring sustainable development policies to the municipal level.
Victor Rico, CAF's representative director in Brazil, stressed the importance of the role cities play as Latin American development engines at the signing ceremony, praising the institution's contribution to this effort. "CAF's actions are based on a comprehensive agenda designed to promote and develop coordinated investment programs that make social, economic, productive, environmental and cultural changes."
The CAF-Avina initiative will offer a series of courses on economic indicators, targets and examples of urban sustainability best practices in the areas of governance, natural resources management, equality, social justice and peaceful cultural wellbeing. Courses will also cover sustainable management practices, planning and urban design, sustainability and quality of life training that will produce more robust, innovative and sustainable local economies that promote responsible consumption and environmentally friendly living, among others.
This technical cooperation forms part of an agreement signed between the two institutions in 2011 that seeks to unite efforts to encourage sustainable development at the city level, in which Instituto São Paulo Sustentável acts as the executing agency.
Avina Foundation is a non-profit organization established in 1994 that develops programs and supports innovative actions that transition the public to a new economy. It promotes the sustainability of natural resources and contributes to social progress and sustainable development in Latin America. Through the Sustainable Cities agenda, Avina operates in 70 cities in 10 Latin American countries, seeking to improve the quality of life and provide fairness by developing more informed communities able to work with the public sector to improve cities and their services.