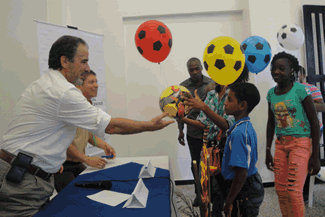 "Soccer for Development", a CAF and Right to Play International Initiative
February 10, 2014
Soccer specialists from sports academies and organizations in Bolivia, Colombia, Panama and Peru exchanged experiences regarding the teaching of soccer and other sports in different Latin American contexts.
(Bogota, February 10th, 2014).- A group of soccer specialists met for four days in Lima (Peru), to exchange experiences focused on sports as an instrument for the development of life skills.
With the participation of Norwegian coach Thomas Breistein, the Right to Play methodology was presented. It has been validated in more than 20 countries, and allows for the use of sports as a powerful tool for teaching values and social skills to children and adolescents, promoting healthy life styles and preventing risky behaviors.
Thomas Breistein stated that "In Latin America there are several soccer academies, perhaps even more than in Europe, and that is very good. A large number of children can benefit from this thanks to the SOMOS network".
Andres Herrera, sports coach of theFundacion Colombianitosstates that the applicability of the Right to Play methodology is successful. "It is all right to compete, but before the competition there is another sphere, which is education. By respecting your rival, being responsible and disciplined, success will also be achieved, whether in a soccer match or a tournament. If children do not win the games, there will still be a great success with respect to their education and, surely, in the future the competitive achievements will come" said Herrera.
CAF, Development Bank of Latin America, through SOMOS: sports network for the development of Latin America, offers a solid alternative to improve the quality of life, generate social inclusion, and development of supportive communities through sports in Latin America. The network has more than 200 coaches trained in the Right to Play methodology, benefiting more than 15 thousand boys, girls, and adolescents in the region.