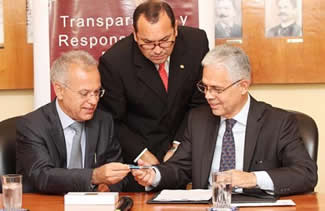 USD 75 million for works in Paraguay
February 10, 2014
CAF and the Ministry of Finance signed a loan contract for the construction and improvement of infrastructure works.
(Asuncion, February 10th, 2014).- A loan contract for USD 75 million was subscribed between CAF, Development Bank of Latin America, and the Republic of Paraguay. Resources will be used to strengthen the country's infrastructure.
The signing of the contract was carried out by German Rojas, Finance Minister, and CAF's Director Representative in Paraguay, Fernando Infante, who expressed his satisfaction for the increasingly close relationship between Paraguay and the multilateral financial institution, as he highlighted the importance of investing in such a relevant sector. Infante stated that "Investment in infrastructure is one of the key factors for the development and integration of the region and, therefore, one of the priorities in the comprehensive development model that CAF promotes for Latin America".
Infante also said that "in Paraguay we are observing a great dynamic in these past years, and CAF is able and willing to accompany the country, supporting the execution of important development works. As a full member of the Institution, Paraguay will find financial and technical support, and the knowledge that our entity offers".
Currently, CAF is the main source of multilateral financing for infrastructure and energy in Latin America. In 2013, more than USD 3.6 billion were approved for projects in Latin America, emphasizing financing for road programs and urban mass transportation systems.