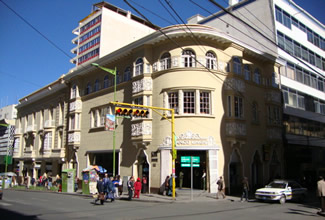 CAF expands the credit line of Banco Union to USD 10 million
March 13, 2014
The object of the operation is to provide greater support to the banking entity and its clients, which are mainly from the micro-credit sector and from small and medium-sized enterprises.
(La Paz, March 13th, 2014). CAF, Development Bank of Latin America expanded the credit line granted to Banco Union from USD 5 million to USD 10 million, to provide financial support to this banking entity and its clients.
The contract was subscribed by CAF's Director Representative in Bolivia, Emilio Uquillas; Marcia del Carmen Villarroel, General Manager; and Jorge Sanchez, Finance Manager of Banco Union.
Uquillas pointed out that "in past years, CAF has shown a sustained increase in its financing participation for the public and private financial sector, as a result of the development of innovating products and mechanisms for the financial entities of the region. With this operation, we also expand our work in Bolivia, seeking to support the access to resources for the country's productive sectors".
The Plurinational State of Bolivia is a majority owner of Banco Union SA by means of the Nation's General Treasury (TGN, for its acronym in Spanish), and in past years it has become one of the fastest growing banks in the country, a pillar for the financing of the productive and housing sectors, by re-focusing its entrepreneurial strategy toward the social area.
In past years, Banco Union has decided to intensify its support to the productive sector, expand its national coverage, increase its portfolio focused on the SME and micro-credit segments, improve client services, strengthen the institutional capital, and improve efficiency levels, among other achievements.