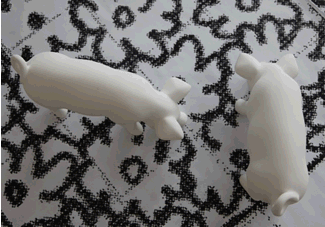 Elba Bairon's Simultaneity and Coexistence at Artespacio CAF
March 24, 2014
The Bolivian artist will present contemporary pieces which, together with showing complementarity, highlight her individual essence, referring to the daily coexistence of objects and people.
(La Paz, March 24th, 2014). Seeking to reflect simultaneity and harmonious coexistence between humans and objects, the renowned contemporary Bolivian artist, Elba Bairon, will inaugurate the show in CAF's art gallery Artespacio CAF, on Wednesday, March 26th in La Paz.
The exhibit is made up of pieces molded in clay and plaster, which show volume and relief and are located on the wall and complemented by an enlarged drawing. The show is accompanied by a series of drawings in Indian ink and watercolor.
The artist explained "in this show I try to relate what happens in the wall with the situation that develops on the floor, showing simultaneity; both things coexist with the desire for harmony and serenity that exists between objects and human beings".
An element that stands out in Bairon's work is that first of all, it reflects a relationship between pieces, but at the same time, intends to show the individuality of the pieces in a determined context. "My intention" she explains, "is to modify the context of the pieces with a figurative character, this results in a different, more abstract, and strange space".
About the artist
Elba Bairon was born in La Paz, Bolivia, in 1947. When she was five years old she moved to Montevideo, Uruguay, and since 1967 she lives in Buenos Aires, Argentina.
During her stay in the Uruguayan capital, she studied drawing and painting in the School of Fine Arts of Montevideo. In Argentina, she participated in engraving and lithography workshops taught by renowned artists such as expert Alfredo de Vicenzo, and plastic artist Eulogio de Jesús.
Since 1980 she has participated in numerous individual and collective exhibits in Argentina and other countries. She participated in the XII International Engraving Biennial in Krakow, Poland; the Latin American Graphic Arts Biennial in the New York Museum of Contemporary Hispanic Arts; the XI Engraving Biennial in San Juan, Puerto Rico; the Integrafik 90, which was held in Berlin, Germany, and the Engraving Triennial in Osaka, Japan. In 1996, Bairon focused her work on tri-dimensional works, reliefs, and production of objects and set-ups in paper paste and plaster.
The public will be able to appreciate the show in Artespacio CAF, located in Avenida Arce Nº 2915 (San Jorge) until April 25th. Visiting hours are from Monday to Friday from 9:00 to 12:30 and from 14:30 to 18:30. Entrance is free.