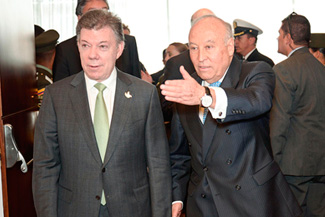 President Santos attends the closing of the CL meeting of the Board of Directors of CAF
March 18, 2014
The meeting in Bogota brought together representatives of the 18 shareholder countries of the Latin American financial institution
(Bogota, March 18. 2014).Juan Manuel Santos, president of the Republic of Colombia, attended the closing of the CL meeting of the Board of Directors of CAF - development bank of Latin America -, which brought together ministers of economic affairs, central bank presidents and other senior officials of its 18 shareholder countries.
In his speech, President Santos expressed his appreciation for CAF's support for the development of Colombia, while also highlighting the evolution of the institution and its current scope in Latin America, "a region that is living through interesting times, enormous challenges, in which CAF will continue to play an essential role."
The Colombian president stressed that the region should aim for integration, saying "we must seek to be increasingly interdependent, more coordinated, more integrated. When countries unite, they collaborate and have common goals that are more easily reached. CAF is a marvelous mechanism for turning those goals into reality,"
For his part, Enrique Garcia said CAF is a Latin American institution which is at the service of the countries in the region, with an eye toward reaching greater sustainable development and social inclusion.
The CAF executive president thanked President Santos for being present at the ceremony and noted that "the results of Colombia in recent times have been among the best in the region, with respect to investment; and for that, we can thank the measures and policies that have been implemented to favor the country's development."