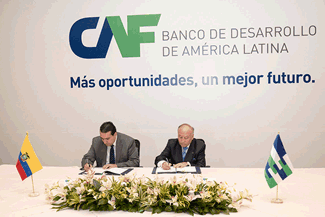 Road development of Los Chillos Valley continues with CAF support
March 18, 2014
The loan contract was signed in Bogota for USD26 million, destined to the development of road infrastructure in Los Chillos valley.
The projects to be carried out will complement the first phase of the program, which has been supported by the Government of the Pichincha Province,
(Bogota, March 18, 2014).Enrique Garcia, Executive President of CAF-development bank of Latin America; Fausto Herrera, Finance Minister of Ecuador; and the prefect of Pichincha Province, Gustavo Baroja Narváez, signed a loan contract for the execution of the Road Development Project in the Los Chillos Valle, for a total amount of USD26 million.
When the signing was concluded, Enrique García said that "with this project, we want to contribute to the government's plans, which are oriented to the development of the infrastructure necessary to improve the living conditions of Ecuadorians."
For his part, Herrera stressed the constant support of CAF and the importance of these projects to improve the connectivity between the Valley and the Metropolitan District.
­­­ The Program seeks to improve the connectivity of the Valley through a series of improvements in the road infrastructure, such as the optimization of the road capacity of the Rumiñahui General Highway, the principal road connecting the Valle with the Metropolitan District of Quito; and the creation of new connectivity options in the Valley, in order to partially detour the traffic from the Highway.
Phase II of the Program will complement the works of Phase I and this is confirmed by the execution of four projects that will increase the current capacity of the road infrastructure in the Valley of Los Chillos, improve the intersections and offer new connections with the economic and population centers in its area of influence.
The projects contemplated are:
Interchange at the Toll Sector of the General Rumiñahui Highway.
Vía Zamora - General Rumiñahui Highway (La Espe Sector).
Conocoto - Amaguaña road.
Widening to Four Lanes of Vía Intervalles.
The execution of Phase II of the Program will permit the decongestion of the bottlenecks on the General Rumiñahui Highway; the reduction of average trip times for users; the elimination of traffic jams in the El Triángulo sector; and an increase in average driving speeds during peak traffic hours.