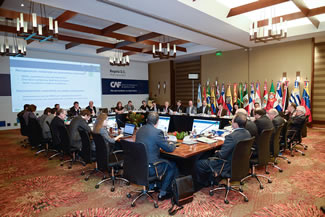 USD100 million for aqueducts and sewage systems in Panama
March 18, 2014
CAF granted the funds to the country to modernize the systems of drinkable water and basic sanitation in the provinces of Bocas del Toro, Chiriquí, Veraguas and Panama, which will benefit more than 150,000 inhabitants.
(Colombia, March 18 2014).CAF- development bank of Latin America - has approved a loan for USD100 million to the Republic of Panama for the Program of Aqueducts and National Sewage Systems (PAYSAN). The executing agency will be the National Institute of Aqueducts and Sewers (IDAAN).
"Access to drinking water and sanitation services is a fundamental instrument in the quest to reach the goals of fairness equity and social inclusion, quality of services and environmental protection," said Enrique García, executive president of the Institution; he added that thanks to the execution of this Program, "more than 150,000 Panamanians in different areas of the country will have access to an efficient and healthy water system, with treatment of waste water, to improve their quality of life."
CAF has supported the Republic of Panama by financing initiatives in the drinking water and sanitation sector, with a global vision of the water cycle: management and protection of priority river basins, improvement of drinking water services in the province of Panama and of the sewage system in the city and Bay of Panama.
PAYSAN, whose total estimated cost is USD126 million, seeks to design, construct and rehabilitate the systems of drinking water or basic sewage in six municipalities in the provinces of Chiriquí, Veraguas, Bocas del Toro and Panamá.
Among the principal works that CAF will finance is the extension and improvement of the sanitary sewer system of Puerto Armuelles; the modernization of the untreated water intake and the supply pipeline of Chorro Blanco; in Veraguas, the system of collection and treatment of waste water in Santiago will be developed; in Bocas del Toro, work will be done on the sanitary sewer and treatment system of Almirante and the water purification plant on Isla Colón will be expanded; and - lastly - in the province of Panama, water collectors will be built in San Francisco, Coco del Mar and Vía Israel.