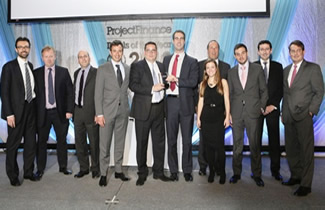 An award was given to the financing operation of the Eten Cold Reserve Generation Plant in Peru
April 25, 2014
In the past year, the issue of bonds of the plant, partially guaranteed by CAF, closed successfully.
(Lima, April 25th, 2014).- Three important international awards were given to the financing operation of the Eten Cold Reserve Generation Plant, to build and operate a 223 MW thermal energy plant in the province of Chiclayo, in the Department of Lambayeque, in northern Peru, where CAF, development Bank of Latin America, had an important participation.
The transaction received two awards: Latin American Project Bond Deal of the Year and Overall Deal of the Year, considered as the best business of the year in all the Latin American categories. The two awards were granted by Project Finance Magazine, in addition to Project Finance Deal of the Year, granted by International Financial Law Review.
The successful bond issue was carried out at the end of 2013 by the Eten energy company, for USD 132 million to finance the construction and operation of a new cold reserve thermal plant in Peru, the first Greenfield energy project financed with project bonds in the region.
Grupo Cobra Instalaciones, Servicios de España and Empresa de Mantenimiento, Construcción y Electricidad of Honduras acted as sponsors of the project. BTG Pactual was the structuring and placement agent, and CAF partially guaranteed the bonds.
Eten will use the income to repay a bridge loan and finance the construction and operation of a new 223 MW generation capacity cold reserve thermal plant. The plant will only generate energy in cases of severe drought or emergencies, such as earthquakes or other natural disasters that affect the supply of energy to the region of Lambayeque, in northeast Peru.
This transaction was given the awards in recognition for being the first project in the region to be financed through bond issues in international markets in its construction stage, under a financing scheme with resources limited to shareholders.