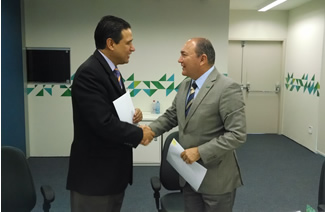 CAF and Desenvolve São Paulo sign cooperation framework agreement
April 23, 2014
The objective is to jointly support initiatives in the infrastructure, basic sanitation, energy, solid residues, and promotion of MSMEs sectors.
(Brasilia, April 23, 2014). The President of Desenvolve São Paulo, a Development Agency of Sao Paulo, Milton Luiz de Melo Santos, and CAF's Director Representative in Brazil, Victor Rico, signed an agreement for the development of a series of common interest activities in Sao Paulo, on April 17th. The objective of these activities is to promote regional development, mainly with respect to subjects related to infrastructure, the environment, and the promotion of small and medium-sized enterprises of the State of Sao Paulo. The agreement also anticipates co-financing for projects, concession of guarantees, establishment of credit lines, joint investment in investment funds, as well as the development of training activities for the institutional strengthening of the governments.
The President of Desenvolve São Paulo stated that "CAF increasingly demonstrates its importance in the sustainable economic development of Latin America. We expect this agreement to help use CAF's experience and knowledge in the region for the
promotion of the "green economy" and the promotion of MSMEs, in order to support sustainable growth in the economy of the State of Sao Paulo".
CAF's Director Representative in Brazil stated that "the signature of the Cooperation Framework Agreement between Desenvolve SP and CAF, Development Bank of Latin America, is extremely important and in line with the Institution's efforts to promote a coordinated action between institutions dedicated to sustainable economic development in the region. In addition, we expect that this agreement will strengthen and promote the development of the state and municipalities of Sao Paulo, both in the private and public sectors".
CAF and Desenvolve SP already participate as co-investors in a series of innovation and seed capital funds, such as CRP Empreendedor, Fondo de Innovacion Paulista, and Fondo Burrill Latin American Sciences.