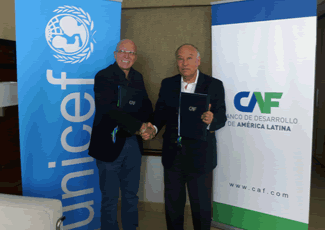 CAF and UNICEF Join Efforts to Guarantee Access to Play and Sports for Children and Adolescents in Latin America and The Caribbean
April 04, 2014
Their initiatives, "Red Somos" and "Vamos Jogar", promote sports as a tool for development and social inclusion.
Work will be carried out to strengthen public policies that guarantee this right to children in their municipalities, in accordance with the Convention of the Rights of Children.
(Panama, April 4th, 2014) CAF, Development Bank of Latin America, and the United Nations Children's Fund, signed an agreement yesterday to jointly promote their work to guarantee access to sports for girls, boys, and adolescents in the region.
Through their initiatives in this sphere, CAF's "Red Somos", and UNICEF's "Vamos Jogar", the alliance will join the efforts in both institutions to reach a larger number of children and youths, especially those with some type of disability or at risk of social exclusion, so they may play and practice sports in a safe and inclusive manner in Latin America and the Caribbean, as established in the Convention Regarding the Rights of Children.
To achieve this objective, CAF and UNICEF, committed to work in sensitizing and encouraging governments and municipalities of the region to maintain or increase their investment to guarantee this right to boys, girls, and adolescents through actions that culminate in the creation of public policies, or changes in the existing laws, if necessary.
Both institutions agree to construct a base line that determines the level of access to play and sports currently existing in the main cities of the region, which may serve for the creation of effective strategies and public policies.
In order to do so, leaders and experts from governments, the civil society, the sports sphere, the private sector, and the media will participate, sharing their experiences and lessons learned in the implementation of sports development programs.
CAF and UNICEF also agreed to cooperate in order to increase the number of sports initiatives for development operating at a national and regional level. The agreement, which has a duration of three years, was signed today in Panama City by UNICEF's Regional Director for Latin America and the Caribbean, Bernt Aasen, and CAF's Executive President, Enrique Garcia.
Aasen stated that, "for UNICEF, this alliance is as extraordinary step to achieve one of the objectives of our "Vamos Jogar" initiative: that all the municipalities in the region have policies and action plans regarding the rights of children and adolescents to play in public spaces that are safe and accessible. In order to do so, public policies must be implemented and resources must be allocated to open parks, sports fields, and spaces in every community".
At the same time, Garcia assured that, "with this alliance, CAF continues to go beyond economic assistance in social subjects", promoting sports for development as a mechanism that generates knowledge and effective instruments in favor of a greater inclusion of citizens. He concluded that, "we want to show the power of sports as an innovating initiative for social transformation".