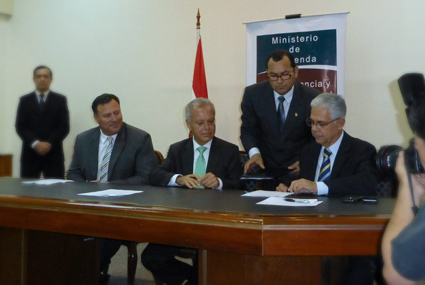 Improved Road Infrastructure to Boost Paraguay Competitiveness
April 10, 2014
CAF and Paraguay's government signed loan agreements for USD 272 million to optimize cargo transport in departmental, regional and international productive corridors
(Asunción, April 10, 2014). CAF—development bank of Latin America—will finance road infrastructure works, totaling USD 272 million, through projects in sections of the national and departmental road networks in three departments bordering Argentina, Bolivia and Brazil.
The loan agreements signed in Asunción will partially finance the Integration Corridor Improvement and Road Reconstruction Program, for USD 222 million, and the rural roads and bridges improvement project, a local labor intensive project in the Eastern Region, for USD 50 million.
Signatories included Paraguay's Minister of Finance, Germán Hugo Rojas, and CAF Director-Representative in the country, Fernando Infante.
"Infrastructure investment is one of the key drivers of development and integration in the region and, therefore, one of the priorities in the comprehensive development model that CAF promotes for Paraguay and Latin America," Infante said.
The Integration Corridor Improvement and Road Reconstruction Program seeks to facilitate the transport of goods in departmental, regional and international productive corridors as a way to enhance integration and foster competitiveness between regions and neighboring countries. The program will be carried out over a four-year span by Paraguay's Ministry of Public Works and Telecommunications.
The initiative also includes a project in the Eastern Region to improve road infrastructure in rural areas and diversify sources of income for families in extreme poverty, by building social infrastructure, to lay the foundations for increased productivity and promote socio-economic development through training opportunities in trades related to construction.