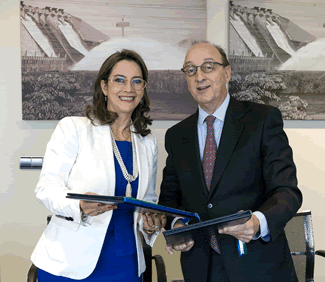 CAF and the Ibero-American Social Security Organization will promote social projects
May 08, 2014
Both institutions signed a cooperation agreement to work together in favor of the Ibero-American social situation.
(Madrid, May 8th, 2014). CAF, Development Bank of Latin America, and the Ibero-American Social Security Organization (OISS, for its acronym in Spanish), signed a cooperation agreement with the objective of promoting development in Latin American countries. The agreement was signed by Guillermo Fernandez de Soto, CAF's Director in Europe, and Gina Riano, General Secretary of the OISS.
The institutions will adopt joint measures to facilitate, promote, and support sustainable development initiatives in countries such as Argentina, Colombia, Chile, or Brazil, among others, in which both organizations are present and share responsibilities in the social environment in order to support improvements in the quality of life of their citizens.
Among the goals of this agreement is the generation of synergies between the private sector, multilateral cooperation, and the civil society, in addition to promoting public-private participation in projects of social importance. The agreement will be in effect for four years.
CAF, as well as the OISS, have spent decades developing activities to promote education, support, research, and documentation in collaboration with other organizations and institutions, as well as facilitating the implementation of cooperation and development programs in the area of social protection.