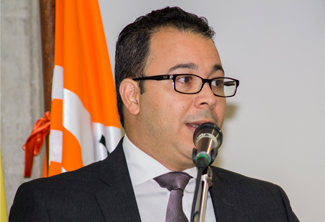 One out of three workers starts a business
May 02, 2014
In its ninth edition, CAF's 2013 Economy and Development Report (RED, for its Spanish acronym) analyzes the role of entrepreneurs in the economic development of Latin America.
(Caracas, April 28th, 2014). Latin America has a high rate of entrepreneurship; one out of three workers starts a business according to the results of the Economy and Development Report (RED 2013). Entrepreneurships in Latin America. From subsistence towards productive transformation, presented by CAF, Development Bank of Latin America, at the Universidad Metropolitana (Unimet, for its Spanish acronym), in Caracas.
Maria Elena Cedeno, Academic Vice-Chancellor of Unimet, said the following in her opening statement, "there is much to be done and many challenges to face regarding entrepreneurship for social development, and universities play an essential role".
The report, carried out by the multilateral institution, analyzes official data and shows the entrepreneurial scenario in the region, accompanied by the results of its own survey carried out in 17 cities, in nine countries in Latin America. The presentation was in charge of CAF Economist, Fernando Alvarez, a researcher of the report that reveals that Latin America has a high entrepreneurship rate: one of every three workers starts a business. However, almost 90 percent of these businesses are unipersonal enterprises, and only nine percent have 10 employees or more.
The Director of Strategic Planning at Unimet, Natan Lederman, highlighted that during the presentation of the RED, "we had the opportunity and the privilege of hearing the results directly from the authors of the study, but we also had the participation of the members of the Red de Emprendimiento (Entrepreneurship Network), which allowed us to share experiences and points of view with a wide variety of strategic actors involved in the management of the so-called "entrepreneurship networks", from which an important support effort is advanced in the field of research, training, advising, and provision of services".
During his intervention, Fernando Alvarez stated that "The companies with the growth potential have higher salaries, and become schools for workers and entrepreneurs. Spin-offs generate higher quality entrepreneurships".
The lack of innovative managerial practices, financing, and conditions of the environment, are some of the limitations faced by companies with revitalizing characteristics that are not developed to their full extent because there are no workers with the required skills.
When listing the characteristics of an entrepreneur, Alvarez pointed out that, "A successful entrepreneur is organized, innovative, takes risks, and is competitive, inspired, and educated".
The RED highlights that the challenges faced by entrepreneurship and productivity policies are related to focalization and incentives, as well as strengthening employability of micro entrepreneurs with a lower growth capacity, and support to entrepreneurs who show potential.