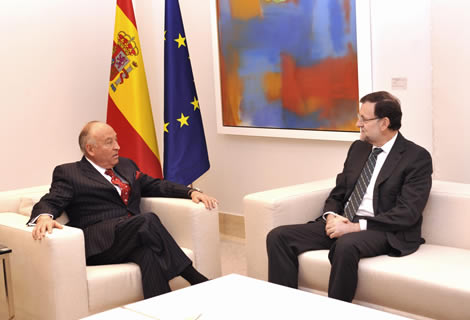 President of the Spanish government strengthens relations with CAF
Mariano Rajoy received the President of CAF, Development Bank of Latin America, at the Moncloa Palace
Mariano Rajoy, President of the Spanish Government, strengthened relations with CAF, Development Bank of Latin America, during a meeting today at the Moncloa Palace with CAF's Executive President, Enrique Garcia. This represented the consolidation of many years of work between CAF and the Government of Spain.
Spain maintains a capital participation in CAF, a leading institution in multilateral financing for infrastructure and energy in Latin America, and represents 33 percent of the multilateral financing for the region.
During the meeting, President Garcia highlighted the large contribution and great experience of Spanish enterprises in the development of infrastructures in Latin America, and explained CAF's increasing presence in Spain to the President of the Government, by participating in Spanish instruments to finance SMEs.
In addition, he stressed CAF's collaboration with the Official Credit Institute (ICO, for its acronym in Spanish) through credit lines for USD 300 million, which have now been renewed and expanded with lines for guarantees. Garcia also expressed CAF's interest in being a part of the capital of the Compañia Española de Financiacion del Desarrollo (Spanish Company for Development Financing), (COFIDES, for its acronym in Spanish).
Finally, the President of the Government and CAF's Executive President used the meeting to review the economic and political situation in Latin America.
After the meeting, Enrique Garcia stated that they had reviewed the relations between both parties and, in particular, he emphasized CAF's work in the economic, social, and academic areas in Spain. In addition, he expressed his gratitude for the Spanish Government's active participation in the Institution.
Excellent relations
During the meeting, the excellent relations between CAF and the Spanish Executive were confirmed. Spain's participation in the Development Bank of Latin America is very appreciated, as well as relations with Spanish economic institutions such as ADIF, CEDEX, ICO and COFIDES, with whom cooperation agreements were signed in a framework of intensification of relations in political, economic, social, and academic aspects.
Enrique Garcia expressed to Mariano Rajoy that relationships with the Spanish public and private sectors are going through an excellent moment, and ratified CAF's will to intensify its support for consultancies, financing, and cooperation with Spanish enterprises that have or intend to have interests in Latin America.
In addition, CAF's Executive President explained to President Rajoy that CAF has created an academic network in Spain to share knowledge and experiences between the multilateral organization and think tanks and educational centers in Europe that promote dialogue and discussion regarding Latin American issues in the European continent. Thus, complementing its business operation and its presence in capital markets as well as other areas, in Spain CAF is considered a relevant actor for the development of Latin America and the Caribbean.