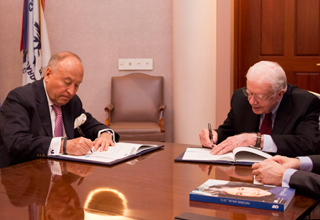 Agreement for Democracy in Latin America
CAF and the Carter Center subscribed an Agreement to work together in projects that promote democratic governance in the region. Jimmy Carter participated in the signing as a witness of honor
An agreement to favor the strengthening of democracy in Latin America was signed between CAF, Development Bank of Latin America, and the Carter Center.
The subscription was carried out by Enrique Garcia, CAF's Executive President; John Barnett, President and CEO of the Carter Center; and Jimmy Carter, founder of the center, as a witness of honor.
"The region has experienced important challenges during past years in terms of democratic stability and governance, and at CAF, we support initiatives (such as the one resulting from the agreement signed today), that contribute to promote common objectives and trust relationships in favor of the construction of democratic societies", stated Enrique Garcia.
"In this way, CAF promotes the ennoblement of democratic and political values in its shareholder countries as a vital component for sustainable development and regional integration", concluded the Executive President of the Latin American financial institution.
The relationship that CAF has with a wide global network of think tanks and universities, as well as its increasing editorial activity and dissemination of knowledge, have allowed it to position itself as a center for reflection on regional subjects, a model for the rest of the world regarding Latin American development issues.