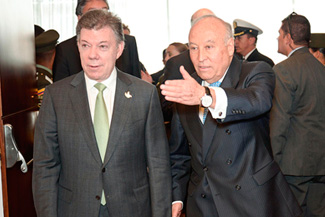 Enrique García congratulates Juan Manuel Santos, Colombia's re-elected President
June 16, 2014
In a communication sent after learning the election's results, Enrique Garcia, Executive President of CAF, Development Bank of Latin America, congratulated Juan Manuel Santos, the re-elected President of the Republic of Colombia, in his own name and that of the Institution.
Garcia stated, "I would like to express my most sincere congratulations for your re-election, which once again reaffirms the strength and maturity of democracy in Colombia. I am certain that we will advance jointly in deepening the excellent relationships between CAF and Colombia, as well as in the regional integration process and sustainable development of Latin America."
In this respect, the President of CAF reiterated the collaboration and support of the Institution for the priorities that the government will establish, especially those linked to tasks related with peace, the post-conflict period, and the creation of prosperity and new opportunities for all Colombians.