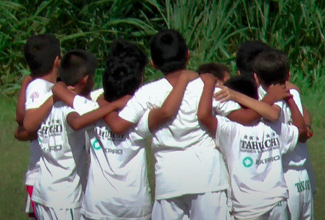 SOMOS trained Tahuichi coaches in conflict prevention and resolution
June 02, 2014
The instructors learned techniques in order to teach boys, girls, and adolescents that violence is not a tool to solve their problems. They must do it through soccer.
From May 27th through 30th, in the SOMOS framework, a sports network for the development of Latin America, Right To Play International trained 40 coaches from the Academia Tahuichi Aguilera in techniques for conflict prevention and resolution through soccer, contributing to the development of life skills for boys, girls, and adolescents.
The training was overseen by two officers from the Right To Play International program, and was carried out in the Academia Tahuichi´s headquarter in Santa Cruz de la Sierra. The sports coaches learned techniques to teach boys and girls to improve their conflict resolution skills without resorting to violence, in order to contribute to instill values and skills for Bolivian children and youth to build peaceful and positive communities.
The SOMOS network arises from an initiative by CAF, Development Bank of Latin America, in alliance with Right To Play and Special Olympics, entities that joined other organizations such as UNICEF, and the Real Madrid Foundation, which support sports as a tool for development. In this way, sports activities such as soccer are used as tools for a comprehensive human development, prevention of social risks, and the promotion of healthy lifestyles in the region. The SOMOS-Academia Tahuichi Aguilera project (2012-2015) has more than 173 sports coaches trained with the Right To Play methodology, which benefits 12,965 Bolivian boys, girls, and adolescents.