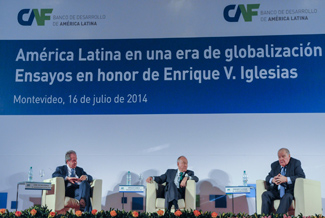 CAF presented a book in honor of Enrique Iglesias in Uruguay
Montevideo,
July 17, 2014
The book includes 15 essays written by leading figures such as Jose Antonio Ocampo, Nancy Birdsall, Michel Camdessus, Luis Alberto Moreno, Alicia Barcenas, Jose Luis Machinea and Enrique Garcia. The presentation carried out in the Radisson Hotel in Montevideo, included a conversation between Enrique Garcia and the guest of honor.
CAF, Development Bank of Latin America, presented a book in honor of Enrique Iglesias. The book, titled Latin America in an Era of globalization. Essays in Honor of Enrique V. Iglesias, includes 15 articles written by Enrique Garcia, Jose Antonio Ocampo, Nancy Birdsall, Michel Camdessus, Luis Alberto Moreno, Gert Rosenthal, Julio Sanguinetti, Ricardo Lagos, Guillermo Calvo, Jose Luis Machinea, Alicia Barcena and Gabriel Porcile, Roberto Devlin, Oscar E. Echevarria, Nora Lustig, Luis F. Lopez-Calva and Eduardo Ortiz-Juarez, and Enrique Iglesias.
CAF's Executive President, Enrique Garcia, highlighted the prestige of the authors whose works make up the book, and assured that each one was selected "thinking on paying homage to a Latin American citizen who gave his life's work to this Continent." Garcia pointed out Enrique Iglesias' legacy to the development of Latin America and the search for a more fair and egalitarian society. "When we speak of regional integration, and when we think about an intelligent international insertion, this man's obvious contribution cannot go unmentioned. On more than one occasion he demonstrated his uncanny ability to reconcile interests for the sake of the common good. As Executive President of CAF, it is a great honor to have contributed to the publication of a book that not only brings together the thinking of Latin America, but also serves as a framework to recognize the enormous task carried out by Enrique Iglesias.
At the same time, Jose Luis Machinea, editor of the book and moderator of the presentation, said that the publication seeks to pay tribute to "a great Uruguayan, citizen of Latin American, Ibero-America and the world, who has helped us dream about the trilogy of democracy, sustainable development, and integration."
Iglesias, whose intellectual strength, negotiating capacity, and knowledge as an economist were highlighted throughout the presentation, expressed his gratitude for the tribute and highlighted "CAF's systematic support to intellectual development and thinking," stating that this book is "the product of a lifetime, of people with the same dreams."
During the presentation, Garcia stated that currently, "Latin America has a first level macro-economic management," and stated the need for, "an adequate balance between the State and the market." At the same time, he added that there should be no room for complacency; Latin America must make a significant investment effort to enable a qualitative leap towards sustainable and inclusive development.
At the same time, Iglesias stated that, "China built a second floor on the world," but, "this tail wind has ended," and the great challenge is, "how to move with our own winds," as, "we lost the opportunity and we will have to navigate under more restrictive conditions," in a world that is, "entering a period of low predictability, great instability, and more unknowns than certainties."
Enrique Iglesias was born in Spain and grew up in Uruguay, where he carried out relevant positions as President of the Central Bank and Minister of Foreign Relations. He was Executive Secretary of ECLAC , President of the IDB and, until March, he was the Secretary General of the Secretaría General Iberoamericana (Segib), (General Ibero-American Secretariat).
The articles included in the publication América Latina en una era de globalización. Ensayos en honor de Enrique V. Iglesias, discuss issues that are intensely debated in the region, which are developed by authors recognized for their trajectory and contribution, who are presidents of countries in Latin America, heads of international organizations, leaders of the entrepreneurial world, and academics who have worked with Enrique Iglesias throughout his career.
The objective of this book, which was edited by Robert Devlin, Oscar A. Echevarria and Jose Luis Machinea, is to stimulate reflection regarding the important subjects that make-up the future of the Continent.
The ceremony included the presence of Danilo Astori, Vice Presidente of the Republic, the Minister of Economy and Finance, Mario Bergara , of Transportation and Public Works, Enrique Pintado of Housing, Land Management, and Environment, Francisco Beltrame and the Minister of Foreign Relations, Luis Porte, in addition to authorities from governmental institutions, congressmen, diplomatic corps, and representatives from international organizations.