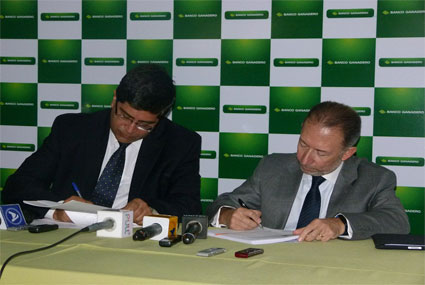 CAF and Banco Ganadero sign a credit line contract for up to USD 10 million
August 25, 2014
The Bolivian financial entity will allocate the resources to the expansion of its portfolio, mainly in the country's Eastern area
CAF -development bank of Latin America, and Banco Ganadero S.A., signed a credit line contract of up to USD 10 million. These resources will be allocated by the financial entity to expand its portfolio, especially in the country's Eastern area, characterized by its growth and entrepreneurial level.
Emilio Uquillas, CAF's Director Representative in Bolivia, stated that for the Latin American institution it is important to continue supporting the Bolivian financial sector, in this case through the approval of a revolving credit line, to improve the quality and scope of the service in the country.
Uquillas stated "the Bolivian financial system in general, and Banco Ganadero in particular, registered a very important increase in terms of size in the past few years, and arrays were maintained at acceptable levels. In this context, the challenge is to improve the productive sector's access to capital and support the growth of micro, small, and medium-sized enterprises with financing".
For Adolfo Guzman, Financial Manager of Banco Ganadero, the agreement makes it possible to increase the financing offer and foreign trade operations to its clients from medium and small-sized enterprises, both from the productive sector as well as the services sector.
Guzman pointed out "We are one step ahead in our internationalization process, with financial backers such as CAF which allows us to support these types of operations. The Bank receives this credit line as a result of its solvency, growth, and prudent management, also offering financing solutions for foreign trade operations that include the confirmation of letters of credit and guarantees".
The operations of Banco Ganadero extend to the productive, services, and trade sectors with a diversity of clients in terms of activity and geographic location.