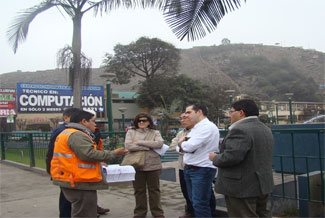 CAF supervised the route of Line 2 of the Lima and Callao Metro
The multilateral entity will support the project with financing of USD 150 million
An evaluation mission from CAF, Development Bank of Latin America, inspected the route of Line 2 of the Lima and Callao Metro, which will benefit 13 districts of the city and close to 2.2 million inhabitants who will take approximately 45 minutes to go from Ate to El Callao.
Eleonora Silva Pardo, CAF's Director Representative in Peru, headed the multilateral entity's delegation, accompanied by staff from the AATE, who supervised the Metro line "in situ". The route will go through the districts of El Callao, Bellavista, Carmen de la Legua Reynoso, La Perla, Ate, Lima, San Miguel, Breña, El Agustino, Jesus Maria, La Victoria, San Luis and Santa Anita.
During the rounds, the mission verified the design of the stations and ventilation shafts along the different districts, as well as the shift yard, located in the district of Santa Anita, where the works will start on September 19th.
After stating that CAF granted financing for USD 300 million for Tranche I and another USD 300 additional million for Tranche II of Line 1 of the Lima Metro, Silva Pardo confirmed that on this opportunity, the multilateral entity will support with USD 150 million for the construction of Line 2.
Silva Pardo highlighted that "CAF's objective is to have the approval of the credit line ready for the Board meeting in december. We have supported this project from the beginning, as a way to help organize a modern, efficient, safe, and clean transportation system that will benefit the inhabitants of Lima and El Callao".
CAF's evaluation team held meetings with staff from the ministries of Economy and Finance (MEF, for its acronym in Spanish), Transportation and Communications (MTC, for its acronym in Spanish), the Autonomous Authority of the Electric Train (AATE, for its acronym in Spanish), and executives of the Consorcio Nuevo Metro de Lima (New Lima Metro Consortium).